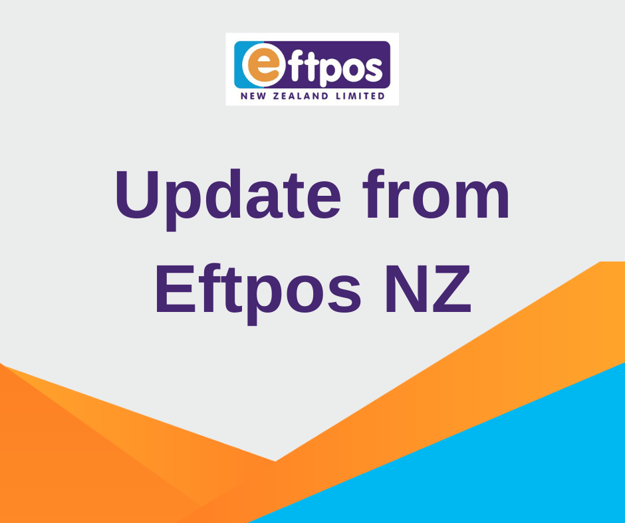 It's been a busy couple of months here at Eftpos NZ. We've moved offices, launched a new terminal, continued development on our Merchant Portal, released our new Virtual Terminal solution and taken our first foray into the world of online payments with the release of our checkout plugin for WooCommerce.
Payments is a fast-paced industry rife with disruption, innovation and complexity. Merchants need payments providers that can offer a full suite of solutions to help them take payment wherever, whenever and however their customers want to pay. That's why we're transforming our core offering to deliver more payment solutions across more sales channels.
Office move
Over the past couple of years, Eftpos NZ has been quietly undergoing a transformation. While our core business is still payment terminals, we've started growing our capabilities across the payments stack. And, as a natural step in our transformation, we needed a different space to accommodate new ways of working.
In April, we moved Eftpos HQ from our former office space on Boulcott Street to our new digs at 86 Customhouse Quay. We're still based in Wellington and our contact numbers and mailing addresses all remain the same, but the new space gives us room to grow and promotes better communication and collaboration between teams.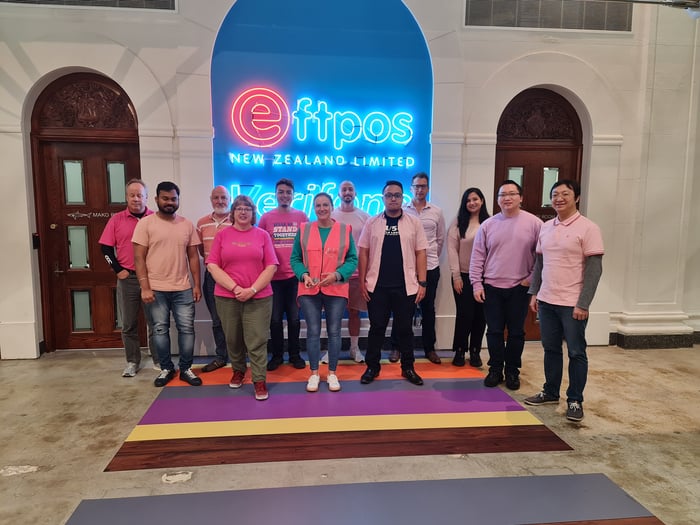 Members of the Eftpos NZ team celebrating 'Pink Shirt Day' in our new reception area
I'm pleased to report that throughout the office move period we didn't skip a beat! Our service and support teams continued to deliver the fantastic customer support at the heart of our business and our product teams were hard at work gearing up to meet our ambitious launch schedules.
Our latest Android device
Last month we launched our new Verifone T650p EFTPOS terminal. The T650p joins our growing range of new EFTPOS devices built on Verifone's Secure Android™. The device comes with all of the features you expect in a portable payment device, along with a growing list of impressive new features including surcharging for contactless cards, advanced reporting and enhanced refunds. You can learn more about this new device here.
Verifone Merchant Portal
Meanwhile, work continues on the Verifone Merchant Portal, a platform that gives businesses a consolidated view of all transactions across physical and digital storefronts. The Portal already gives businesses the ability to build custom transaction lists for download using a range of filters to help drill down to exactly the transactions they need. Additional features to be added to the Portal in the coming months include 'Pay by Link', which will allow businesses to generate a unique link for customers to make payment for a set amount online, as well as a Dashboard where businesses can better identify trends and discrepancies in their transaction traffic, reporting and reconciliation processes. The Portal is still in pilot, but we are inviting Eftpos NZ customers to try out the Portal - find out more and apply here.
Virtual Terminal
I'm pleased to announce that we've recently launched the first Payment Tool onto the Portal. Virtual Terminal gives businesses an easy and secure way to accept card-not-present payments over the phone, or for mail orders. Customer card details are entered into an online payment form on the Verifone Merchant Portal to process payments. You can also refund Virtual Terminal transactions on the portal with just a few clicks.
Virtual Terminal only costs $9.95 per month when you add it to your Eftpos NZ terminal subscription. There are no caps or limits on the number of users you can grant access to use your Virtual Terminal facility and no fees for additional users. This solution is great for any business that requires a cost-effective, easy-to-use method for accepting card-not-present payments or a backup to existing systems for business continuity.

Virtual Terminal in action on the Verifone Merchant Portal
Virtual Terminal will soon be available for all businesses in New Zealand! In the meantime, an exclusive release of Virtual Terminal for merchants that bank with ANZ Bank New Zealand is available now. You can learn more and apply for a Virtual Terminal facility here.
Verifone WooCommerce Plugin
Last (but certainly not least!), we're working on bringing the Verifone eCommerce suite to Kiwi businesses. Get a competitively priced checkout and online payment gateway solution that offers fast access to funds with next business day settlement. Add Verifone's Hosted Checkout to your existing CMS platform in just a few simple steps without the need for extensive web development. Our CMS integrations connect the shopping experience to the checkout experience, with plugins for shopping carts from trusted partners like Magento, OpenCart, PrestaShop and WooCommerce. Quickly switch providers or get your site up and running for the first time with ease.
The first available plugin in New Zealand is for WooCommerce, with an exclusive release for merchants that bank with ANZ available now. If you have a WordPress site and your merchant facility is with ANZ, you can now take payment safely and securely directly on your WooCommerce store with the global leader in payment solutions, Verifone. Learn more and register your interest here.
Additional integration methods including iFrame and API options will be available in the coming months.

Stay tuned for more updates and get in touch if you have any questions, feedback, or ideas. You can send us an email here or find us on Facebook.
Ngā mihi,

Neil Smart
Sales & Success Manager,
Eftpos NZ