What is a mobile EFTPOS terminal?
The word "mobile" doesn't refer to a mobile phone, it refers to "mobility". Some EFTPOS terminals are chained to the checkout counter as they need a broadband router to connect to the network, which limits mobility. But not mobile terminals! These devices can connect to your payment network using WiFi or the 3G network with a mobile SIM, creating a portable payment solution.
What are the benefits of Mobile Terminals?
1. Perfect for businesses on the go
If your business doesn't have a fixed counter, then a countertop terminal just won't do! We're talking about businesses on the go, like food trucks or tradies.
This is when mobile terminals, which are ready-to-use right out of the box, are perfect. With mobile EFTPOS, you can receive payments anytime, anywhere and make more profit by not missing on customers who don't carry cash.
"Accepting payment for a glass of wine 5 miles out into the beautiful Kenepuru sounds. Mobile EFTPOS from Eftpos New Zealand [has] transformed the way we do business."
- Aussie Vale, Skipper, Marlborough Travel Limited.
2. Take payment to the customer
Generally speaking, most people dislike two things: traffic jams and long queues at the checkout counter.
That's why mobile terminals are a true blessing, especially for hospitality businesses. Instead of having the customers walk all the way to the checkout counter and wait, you can take the EFTPOS terminal to them and enable them to make their payment while they're at their table enjoying their glass of wine with their loved ones.
3. Your 'cashless' customers won't be disappointed
In our blog 4 Reasons Why NZ businesses Love Being Cashless, we mentioned how going cashless can benefit businesses. Well, there's a bunch of benefits for your customers of choosing to pay with methods other than cash too. That's why use of cash to make payments is declining.
"We've seen over the last 20 years a strong movement into electronic payment because it is so convenient and there is no cost to the consumer, Claire Mattews, of Massey University.
The last thing your customers want to hear is "sorry, cash only". Save them from disappointment by incorporating mobile terminals into your payment solution, so you can take payment no matter where you do business.
4. Your event payment solution
Need a mobile terminal, but only for a month or two? Or even just a weekend? Don't miss out on a single customer at your next trade show or market day! Grab a mobile EFTPOS terminal for a short term. Short term terminals still get all of the support that our long term terminals do, including access to our 24/7 technical helpdesk.
As you already know, not many people carry cash, that's why EFTPOS terminals are an absolute necessity in events.
We even offer special discounts for registered charities, and early-childhood centres and schools.
"Super friendly service and completely hassle free! The terminal arrived just when they said it would, the operating instructions were really straightforward and all we had to do was turn it on and away we went."
- Jordan Rondel, Owner, The Caker.
Here are the best Mobile EFTPOS Terminals on the market
1. Verifone VX 680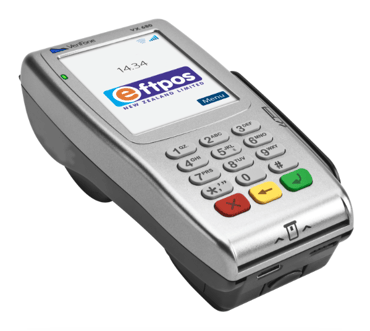 Features:
Connect via WiFi or GPRS
Reliable hardware
Backed by 24/7 technical support
Available on both Worldline and EFTPOS NZ networks
Available on long or short-term contracts with Eftpos New Zealand
Learn more about the VX 680 here.
2. Verifone VX 690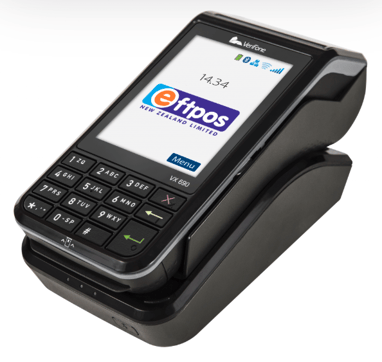 Features:
Premium, Bluetooth EFTPOS machine with full wireless capability
Portable whether you connect via IP, WiFi, or 3G
Available only on the Verifone Network
Available on long or short-term contracts with Eftpos New Zealand
Learn more about the VX 690 here.