Wireless 'mobile' or 'portable' EFTPOS devices have become increasingly popular over the years. These terminals allow businesses to take payment over Wi-Fi or using a SIM card. Read on to learn more about what you can expect to pay for a mobile EFTPOS solution.

There are two options for mobile EFTPOS solutions for businesses in New Zealand:
Mobile EFTPOS machines that connect to a payment network via Wi-Fi or a SIM card. These terminals pack the power of the traditional EFTPOS terminal, offering the same level of functionality, technical support, security, extended coverage and payment flexibility on fast and reliable portable hardware.
mPOS devices which are small card readers available from merchant acquiring banks. These devices are usually paired with a smartphone or tablet and connect to a payment network using the SIM on the phone or tablet.
mPOS devices can be a good option for micro-merchants who process low volumes of transactions, require minimal functionality and need a flexible contract. Small to medium sized businesses will find a mobile EFTPOS terminal better suits their needs.
In this blog, we break down the specific cost of using these payment solutions and the differences between the two.
How much does mobile EFTPOS cost?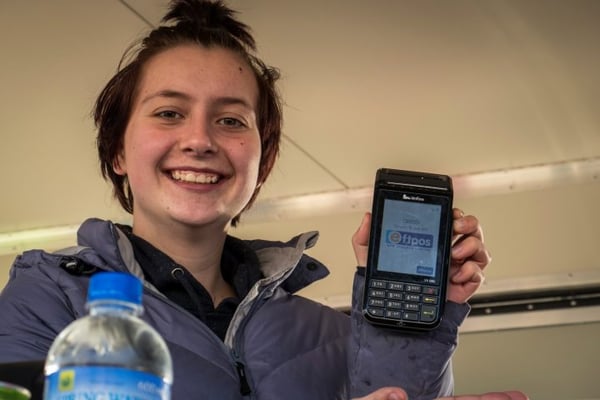 There are five key fees that make up the total cost of your mobile EFTPOS solution:
set-up fees;
monthly device fees;
your network connection;
your internet connection; and
the cost of accepting credit cards.
1. Set-up fees
Set-up and delivery are typically free of charge for our mobile EFTPOS devices. For mPOS devices, banks usually charge a set-up fee starting from $49 + GST, up to $99 + GST. If the device needs a smartphone or tablet, you'll need to supply this yourself.
2. Monthly device fees
If you purchase your EFTPOS terminal you can expect to pay a one-off purchase price of around $1000 - $1900 + GST, per terminal. If you choose to lease your EFTPOS terminal, you'll pay a subscription fee per EFTPOS terminal, per month which includes free compliance upgrades and 24/7 technical support. The exact amount will vary depending on the level of support you need, your terminal model and the contract length you choose. Longer terms offer the best value in terms of monthly fees. A rough guide is around $30 - $40 + GST per terminal, per month.
mPOS devices are only available on subscriptions, which means you cannot choose to purchase an mPOS device outright. Your subscription will include technical support and managed compliance.
Typically, 'mPOS' devices, cost around $23 - $40 + GST per card reader, per month*.
*priced based on average costs, Nov 6, 2020.
3. Network connection
There are two payment networks to choose from in New Zealand: The Verifone Network and the Worldline network. We operate the Verifone network, which makes Eftpos NZ the only terminal provider with our very own payment network. This is great news for small business owners because we can bundle your device and network services, which means one less supplier to manage. Learn more about the differences between the two networks here.
There is a monthly fee per terminal for payment network connection. Worldline charges $18.00 + GST per terminal, while we only charge $13.50 + GST per terminal.
5. Internet connection
To connect to your payment network, your device needs to be able to connect to the internet.
Connecting to both networks is free over a standard broadband connection, so if you connect via Wi-Fi there will be no additional cost aside from the fees charged by your internet service provider.
If you need to be able to transact beyond the reaches of your Wi-Fi connection, you can opt for a device with a SIM card. The SIM card will be provided by your terminal provider and the cost of the SIM and mobile data usage will either be included in your terminal rental subscription, or you may incur a 'SIM fee' of around $13.00 + GST per mobile terminal, per month.
mPOS devices transact by connecting to the Wi-Fi or mobile data on the smart device they are paired with.
5. Merchant service fees
One thing to note is that accepting credit cards on mPOS devices is mandatory which means you will incur Merchant Service Fees, whereas accepting credit cards is optional on Mobile EFTPOS terminals.
It's a personal choice here to weigh up the benefits of having a flexible EFTPOS offering, versus paying credit card merchant fees on an ongoing basis.
Which solution is right for my business?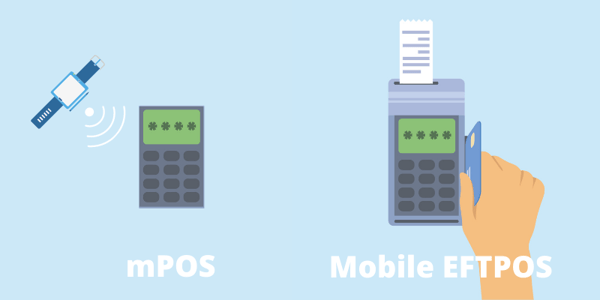 Portable payments are perfect for businesses that don't have access to a wired broadband connection, for example at tradeshows, festivals, markets and fair. Mobile EFTPOS is also a fantastic solution for businesses who prefer the aesthetic of minimal cables and wires on their counter, or want a queue-busting solution that enables them to take payment while customers wait in line. Many hospitality businesses offer tableside service to reduce congestion at front of house, reducing the risk of 'dine and dashers' and most importantly, making the customer's experience even easier and more enjoyable.
"Accepting payment for a glass of wine... 5 miles out into the beautiful Kenepuru Sounds. Mobile EFTPOS from EFTPOS NZ - it's transformed the way we do business." - Aussie Vale, Marlborough Travel Limited
mPOS devices are available on flexible, cancel anytime, month-to-month contracts which are great for merchants who operate seasonally. They are most suitable for micro-merchants that process small volumes of transactions, because handing an mPOS device back-and-forth can become cumbersome. Another thing to consider is that the devices run on battery power, so you need to make sure the device is charged, or you have a charging facility with you whenever you are trading.
Mobile EFTPOS terminals are a better solution for small to medium sized businesses who want all the capability of a traditional EFTPOS terminal but need a portable payment solution.
If you want or need:
receipt printing;
MOTO

(Card-not-present) transactions;
additional card types;
then a mobile EFTPOS machine will suit your business better. It's worth noting that offline transactions and POS integration are only available on some mPOS devices as well.
Are there different types of mobile EFTPOS machines?
Yes! We have different mobile EFTPOS machines to suit different businesses.
Verifone T650p: Meet the Verifone T650p, a payment device built on Android™. Constructed from durable materials and sculpted to be easy to hold and carry, the device is ready to go where your customers are with three wireless connectivity options: Ethernet / Bluetooth, Wifi or 4G/3G. The T650p is only available on the Verifone network.


VX 690 EFTPOS Machine:

Flexible connectivity and POS integration options makes this a great terminal for any business. The VX 690 is only available on the Verifone network.





V240M Mobile EFTPOS Terminal

: a smart touchscreen portable payment device that is perfect for on-the-go. It comes equipped with 12 hours of battery life, excellent built in security and 3G and Wifi capability. These devices are only available on the Worldline network.


What's next?
If you're interested in finding out more about our EFTPOS solutions and how much a mobile EFTPOS machine is going to cost you, our EFTPOS experts are here to help.
We have a great blog full of resources like this and this.
Or you can book a call here or request a free, no obligations quote here and one of our experts will be in touch!