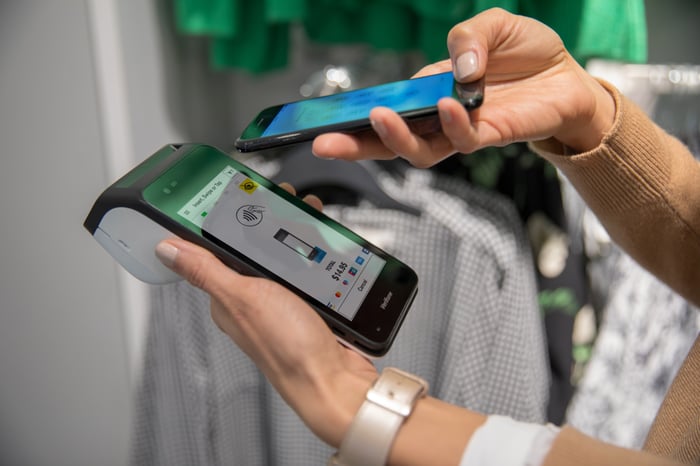 With the release of the iPhone in 2007, Apple kicked off a revolution that saw the humble mobile telephone evolve into a device billions of people use every day. Smartphones have completely changed the way we approach and interact with technology. We think it's about time EFTPOS caught up.
Introducing Verifone Android, payment devices built on Android for the next era of EFTPOS.
Eftpos NZ recently celebrated the launch of our first Android device, giving Eftpos NZ team members a chance to test drive the new solution. The Verifone Carbon Mobile 5 (CM5) is just the first Android device we are bringing to Kiwi businesses to help merchants thrive in an increasingly complex retailing landscape.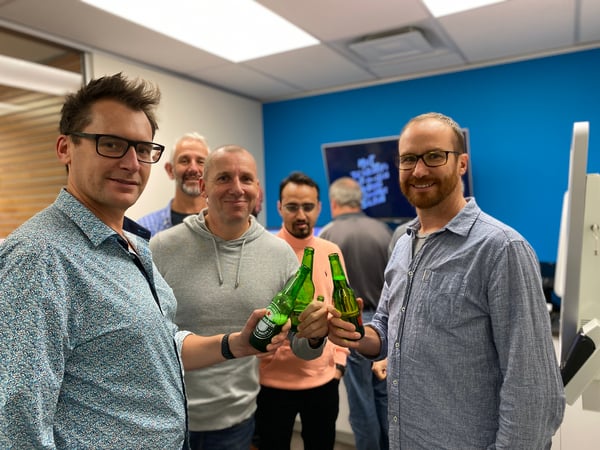 From left: Dean McDougall (Senior Software Engineering Manager), Pete Hansen (Eftpos NZ GM), Stephen Baker (Development Manager, Transactional Services) toast the launch of the CM5 into internal pilot
Verifone is one of the first manufacturers globally to launch payment devices built on Android. Just like smartphones, Verifone's Android payment devices are intuitive and easy to navigate with touch prompts like swiping and tapping. Purchase amount and PIN entry is done via a full touchscreen keypad, instead of a traditional keypad, which means the devices are much more durable, and easier to clean and sterilise.
"This next-gen device marks a major leap forward for payments in New Zealand. It delivers all the key elements businesses need in a portable payment solution today, with a solid foundation for future innovation".

- Kristy Gregory, Senior Manager, Strategic Partnerships, Eftpos NZ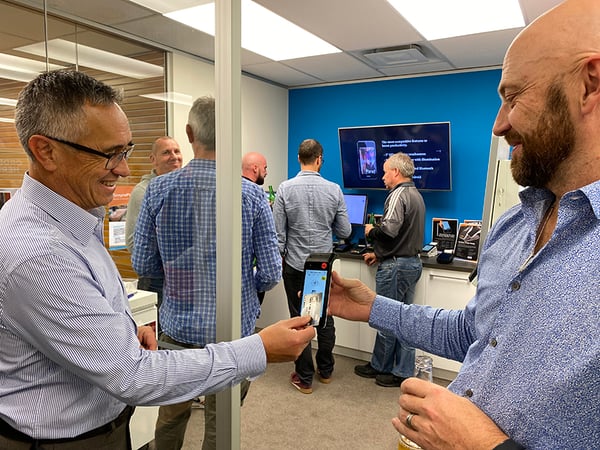 Eftpos NZ team members test out the Carbon Mobile 5
The Android operating system boasts a thriving developer community, which has enabled Verifone to swiftly develop and optimise a world-class Android payment application and will greatly expedite developers' ability to create, scale and deliver apps to enhance and extend the devices. In future, businesses will be able to download apps for POS and in-aisle sales, loyalty, inventory management, staff management and much more.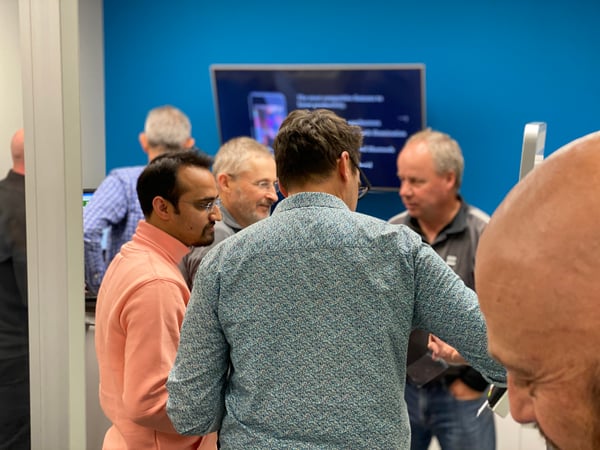 Eftpos NZ team members get a 'sneak peek' of our new payment solutions
The first market launch of the CM5 will deliver a WiFi and 3G/4G portable payment device equipped with all the basic payment features merchants expect, plus some exciting new ones. The CM5 will be able to email receipts, capture signatures on-screen, provide detailed transaction reporting, facilitate hierarchical refund limits and surcharge contactless debit and credit payments. Further releases will bring more functionality to the device, including POS integration. Secured with the latest PCI PTS 5.X payment device security, the Carbon Mobile 5 is compliant until 2029.
Good news for Eftpos NZ customers! We'll be upgrading our entire fleet to Verifone Android devices, so if you're an Eftpos NZ customer, you get one.
Want to know more? Sign-up here to register your interest and get updates.