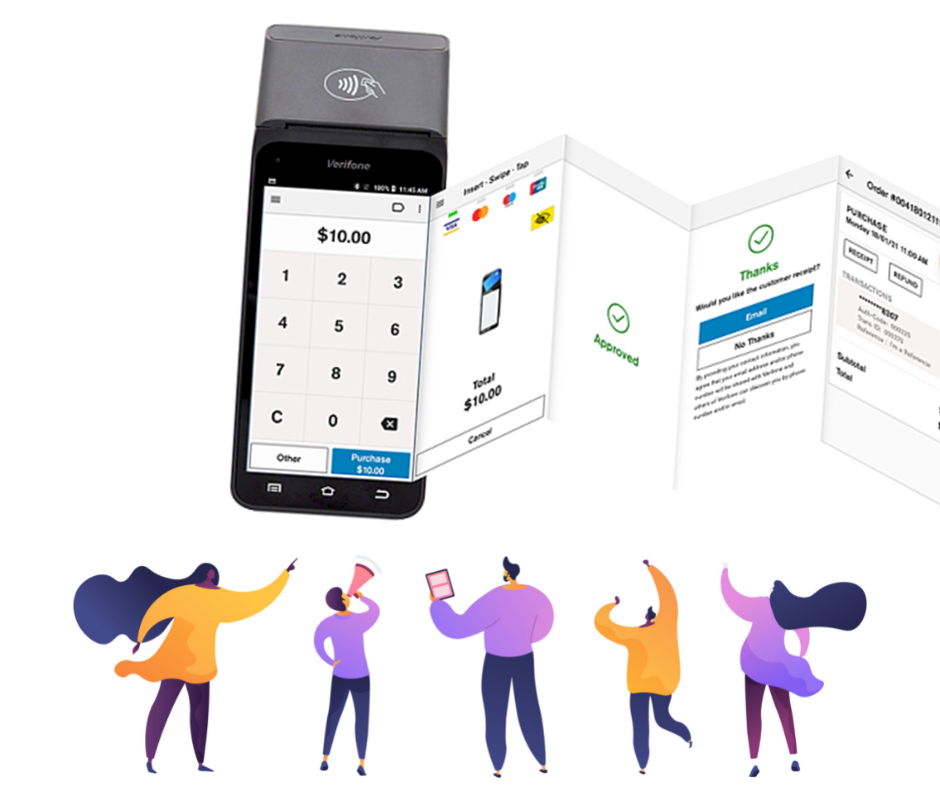 Eftpos NZ was the first EFTPOS provider to bring Android™ EFTPOS to Kiwi businesses. The great news is, if you're a customer, you get one. That's right! If you're an Eftpos NZ subscription customer you're automatically on the list for a FREE upgrade to a Verifone Android EFTPOS device.
We've already dispatched over 15,000 Verifone Android EFTPOS devices to businesses up and down the country. Starting early 2022 we'll be ramping up our upgrade efforts, so if you haven't received your new terminal yet, you could be next!
Learn more about our customer upgrade project:
FAQs
Is there a charge for this upgrade?
No! Your upgrade to Android™ EFTPOS is free of charge.


Will there be any change to my monthly fees?
This upgrade won't affect your monthly subscription charges.


When will I be getting it?
Keep an eye on your email inbox for updates! We'll send you an email to let you know when you're next in the queue and then a few more emails to let you know when your terminal is on its way and what to do once it arrives.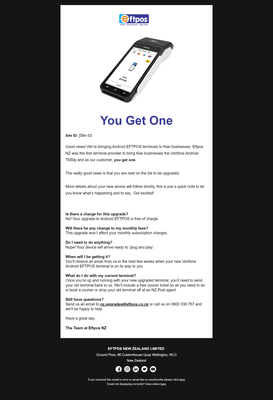 What do I do with my current terminal?
Once you're up and running with your new upgraded terminal, you'll need to send your old terminal back to us. We'll include a free return courier ticket with your new Android EFTPOS terminal so all you need to do is book a courier or drop your old terminal off at an NZ Post agent.
What you can do to get ready
If you're an Eftpos NZ terminal subscription customer, you're already on the list for a free upgrade to Android. You don't need to request an upgrade
One thing you can do to prepare is make sure we have your correct contact details on file. We'll need a current email address and business address to make sure everything goes smoothly! If you want to doublecheck we have your correct details, send us an email to nz.upgrades@eftpos.co.nz.


The Android™ EFTPOS device

Most customers will be upgraded to a Verifone Android T650p EFTPOS terminal. This EFTPOS device is suitable for a range of businesses and industries with an ergonomic design, long-lasting battery, fast charging and three wireless connectivity options for grab and go use: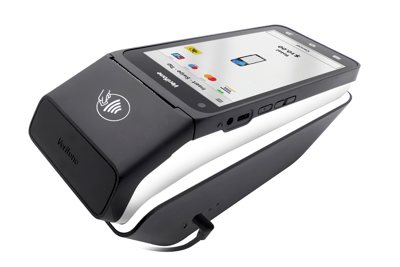 Wi-Fi: connect to Wi-Fi or even to a mobile hotspot.

3G/4G Mobile Data: connect to the mobile cellular network with a SIM card for a fully mobile payment solution, or add a Backup SIM to keep you covered if your Wi-Fi goes down.

Ethernet + Bluetooth®: connect the multi-functional charging base directly to your router. Your terminal connects to the base via Bluetooth®, so it doesn't need to be on the base to process transactions.
The T650p can:
email receipts
capture signatures on-screen
provide detailed transaction reporting and even email a transaction list from the device
assign different refund limits to cashiers and managers
match refunds back to the original transaction
surcharge contactless debit and credit cards
split a Purchase between multiple customers, into equal parts or custom amounts
and more!....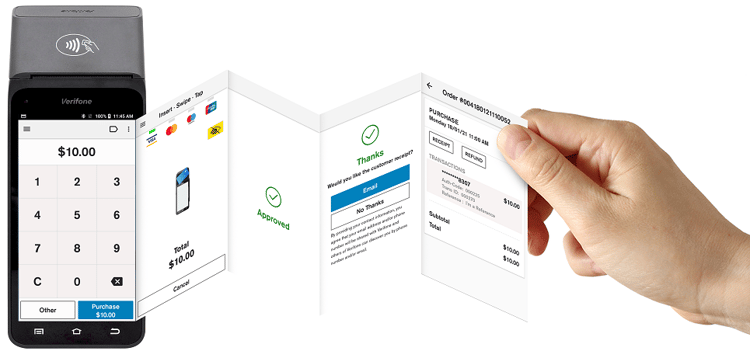 Keep up with customer expectations
Intuitive and easy to use with clear on-screen prompts and alerts, Verifone Android devices make taking payment simple for you and your customers. With a stunning 5.5" touch screen and high-quality audio, the T650p is the perfect device for engaging your customers from the moment of interaction.
Keypads are a thing of the past! The T650p has a large, vibrant full touchscreen with a virtual keypad, This makes the device more resistant to liquid damage than traditional keypads and easier to clean and sanitise.
Safe, secure, future-proofed
Secured with the latest PCI PTS 5.X payment device security, the Verifone T650p is compliant until 2029. Back every transaction with end to end security and safely accept payments from cards and contactless devices.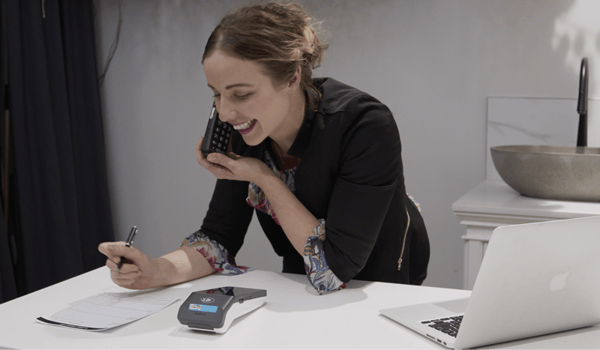 Video: Anna from the Wild Flower uses the T650p
Not an Eftpos NZ customer?
The T650p is available now for new customers, but stocks are very limited. Apply now here.