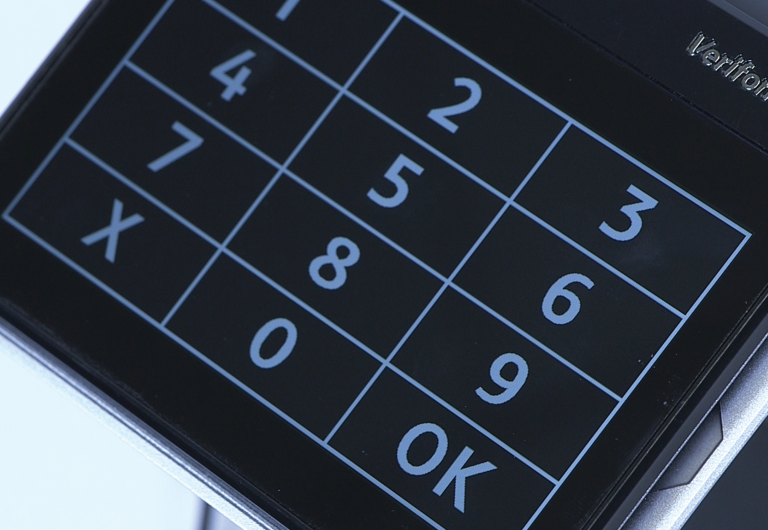 Eftpos New Zealand is the first payment solution provider in New Zealand to bring Android payment devices to Kiwi businesses. These next-generation Verifone payment devices offer businesses a host of new features, including a full touchscreen without a keypad. However, for the estimated 180,0001 New Zealanders with severe to moderate functional vision loss, the shift away from physical PIN pads towards fully touchscreen virtual keypads represents a unique challenge.
The solution? Navigator*. An accessibly designed PIN entry system for touch screen devices to enable low vision or blind customers to enter their PIN independently and securely. When Navigator is activated, the non-tactile touchscreen is transformed into a universal keypad with audio confirmation, so vision-impaired consumers can enter a PIN or other numerical data to easily make purchases.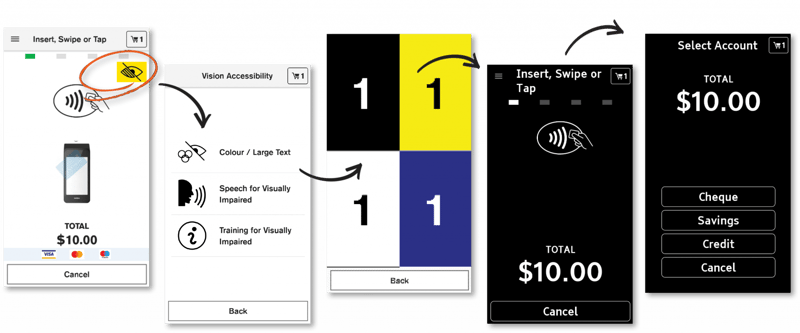 Navigator 'Assistance mode'
How does it work?
The Navigator solution has three 'modes':
Accessibility Mode enables low vision and/or blind customers to enter their PIN securely and independently by utilising sound to aid orientation and to provide step-by-step instructions to the user.
Assistance Mode supports people with low vision by allowing magnification, colour contrast and audio feedback.
Training this option allows merchants or customers to partake in a training exercise where they can become familiar with PIN entry mechanisms, etc.
Is it secure?
The goal for Navigator was to design a solution that ensure consumers can access a seamless, secure and inclusive payment experience. Navigator was designed and built in collaboration with the Royal National Institute of Blind People (RNIB), a United Kingdom-based charity. Consulting with the end user for the solution ensured that Verifone developers came to truly understand the pain points and challenges that vision-impaired and blind consumers experience when making payment. Navigator was designed to balance usability with security, delivering high accuracy and consumer satisfaction, while maintaining PCI PIN Transaction Security.
How can I get my hands on an Android EFTPOS terminal?
The Verifone Carbon Mobile 5 is exclusively offered by Eftpos New Zealand.
The first market release of the Carbon Mobile 5 will deliver a WiFi and 3G/4G device compatible with almost half of our customer's existing solutions. Exciting new features will include e-Receipting and contactless surcharging. Further releases will bring more functionality to the device, including POS integration.
Want to know more? Sign-up here to register your interest and get updates.
*Navigator will be made available on Android devices in New Zealand in a future release.
Sources
'Blindness and Low Vision in New Zealand – Latest statistics'. Blind Low Vision NZ. Accessed 1 July 2020.