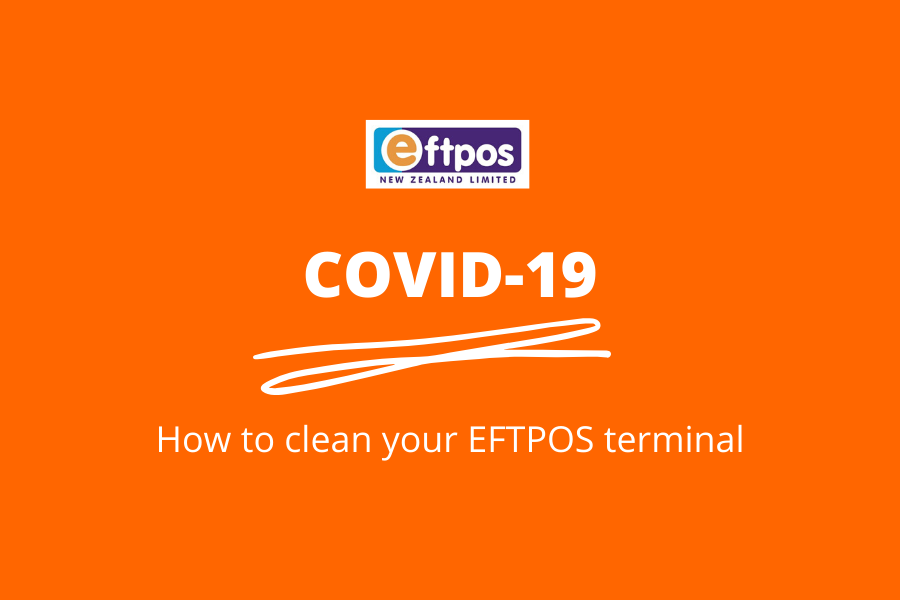 With the escalating response to the presence of COVID-19 in New Zealand and the potential for a wider outbreak, it's important that we all take steps to ensure the safety and wellbeing of our communities

Given payment devices are a key point of physical interaction within retail environments, it is important that we take reasonable steps to minimise any risks associated with customer contact and give comfort to your customers around their payment experience.

Two key measures you can take to reduce this risk:
• regularly cleaning and disinfecting your devices, and;
• accepting contactless payments so your customers do not have to touch your device.

How to properly clean your EFTPOS terminal
The Ministry of Health recommends thorough cleaning as one of the most important preventive measures we can all take to prevent the spread of COVID-19.

However, certain substances and cleaning techniques can damage your terminal. EFTPOS terminals should only be gently cleaned with water. It's important that you do not use solvents, detergents, or abrasive cleaners to clean your terminal.

Cleaning & Sanitising:
Turn off your device.
Unplug it from power source.
Clean it following the instructions below.
Once completely dry, reconnect it to power and power up.
EFTPOS terminals should only be gently cleaned to remove dirt, residue or debris using a lightly water-dampened, clean microfiber cloth. One or two drops of pH-neutral, non-scrubbing soap may be used. Do not use solvents, harsh detergents, or abrasive cleaners.

After cleaning, the devices may be sanitized using an alcohol-based wipe or appropriate alcohol-based cleaner (approx. 70-90% strength isopropyl alcohol) applied to a microfiber cloth. Apply gently; do not scrub. Isopropyl alcohol applied to a clean microfiber cloth may be used on touch panel displays but never press hard on displays.
CAUTION
Accepting contactless payments
Offering contactless payment acceptance on your device will reduce the risk of transmission of the virus via your device's PIN pad and will provide your customers with much greater comfort when paying.
To get contactless payments enabled, talk to your merchant bank or call our customer services team on 0800 EFTPOS (0800 338 767, option 4).
How we are supporting your business
We already have an established business continuity plan, which includes specific action we will take in the event of a pandemic. Our key priorities are ensuring the continuity of your payment processing and our service and support functions.

Our team is already executing on these plans so that we can ensure continued support to your business.
Contact Eftpos NZ support services
Eftpos NZ Customer Service
Available 8am-5pm, monday-friday.
Eftpos NZ Technical Support

Available 24/7.

COVID-19 Resources for businesses
General Health Advice

For information about the impact of COVID-19 on health, travel, education and business and community issues visit the New Zealand Government website.

The Ministry of Health has established a dedicated 0800 Healthline number for health advice and information. Call
0800 358 5453 – it is free and available 24 hours a day, 7 days a week.

Additional up-to-date information is also available from the World Health Organization (WHO):


Advice for employers

Worksafe have prepared some advice on workplace readiness for COVID-19. Read more here.

IRD - Tax relief

Tax relief and income assistance is available to people affected by the downturn in business due to the impacts of COVID-19. The IRD have a range of ways they can help depending on your circumstances. If you have a tax agent, they should also be able to help. Learn more here.