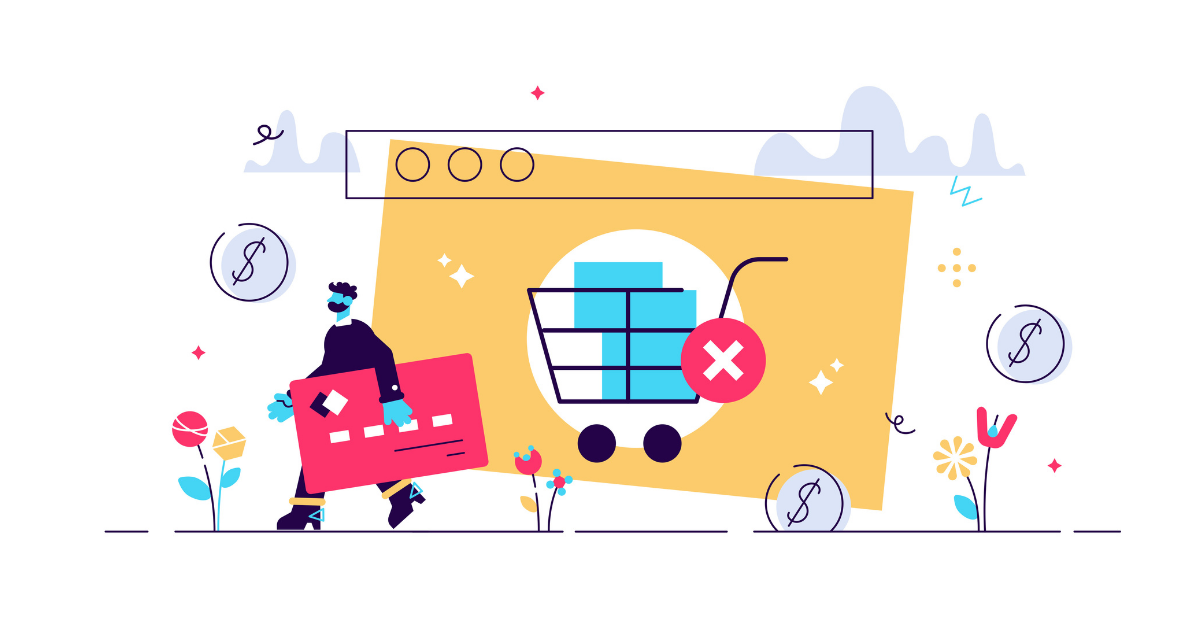 You've built a visually appealing WordPress website that clearly communicates your business, value and offering. You've integrated WooCommerce into your online store's functionality and you're ready to begin accepting payments and dive into the world of e-commence - but you're finding that your customers are getting stuck at the point of conversion. They seem to be dropping items into their cart left, right and centre, but not many are taking that final step and purchasing your product.
Shopping cart abandonment is defined as "When customers put items in a cart but leave the site before buying". This is a common scenario for many online retailers, in fact, the average shopping cart abandonment rate is hovering around the 70% mark - yep, 7/10 customers make it all the way to the cart and change their mind at the last moment! Typically, a spike in abandoned cart rates suggests that there's a barrier between your customer and making a purchase. This could be anything from poorly designed landing pages, technical difficulty with a payment gateway, to web design problems or a lack of social proof to 'legitimise' your site.
So, what can you do if you notice your eCommerce store abandon cart rates sneaking upwards?
Fortunately, through understanding the psychology behind your customers' purchasing decisions and making a few simple tweaks and changes to your checkout processes, you'll be able to increase your chances of converting sales and increasing that all-important bottom line. Here are our top eight tips!
1. Offer to create an account after purchase
According to Business Insider consumer research data, one of the most common reasons that customers don't complete the online shopping process is because they're forced into registering or creating an account before being able to complete an order. Marketing 101 says that collecting your customer's email addresses and adding them to your database is the best way to enrol them for email marketing and continue to sell to them - which is true - but the trick is to add them to your database after you've made the first sale.
If you put yourself in the place of the customer, you're likely to experience a psychological resistance to giving away your details without getting something in return. At the point of sale, your customer feels as though they're doing you a favour by purchasing, and asking them for their information to market to feels somewhat like 'double dipping' and can put customers off. The most simple way to fix this is to set your cart up to complete a transaction and then follow up with a 'sign up to track your purchase'. This way, your customer is getting something out of the exchange of information and the transaction feels necessary.
2. Sprinkle your cart with 'social proof'
You know that your site is trustworthy and your product is legitimate, but before a new customer is willing to buy from you, they'll be searching for reasons to trust you and your brand. This is where social proof comes into play. Defined by Sprout Social as "the concept that people will follow the actions of the masses, and that since so many other people behave in a certain way, it must be the correct behavior", social proof can be the difference between trust and suspicion.
The easiest way to harness one of the most powerful psychological tools in your shopping cart process, is to add either testimonials from real customers, a review section where your customers can see at a glance how other people like them experienced your product, or potentially 'used by' logos if you're more likely to have sold to businesses and brands than people. Essentially, show your new customer just how happy previous customers have been, and they'll be far more willing to click 'buy now'.
3. Build trust through secure payment gateways
It's always encouraged to proceed with caution when entering your credit card details on the internet, and rightfully so! It's important to know that online shoppers are always on high alert and looking for reasons to doubt your legitimacy, to make sure their personal details are safe online.
As the retailer, it's your responsibility to not only make sure that your shopping cart functions are in fact safe and secure, but also that you communicate that to your customers. There are two ways - firstly to use a payment gateway that's familiar to your customers and that they already know and trust, and secondly, to visually authenticate the payment solution you're using with security 'badges'. These badges reassure your customer that everything is legitimate and safe, and can sometimes be the difference between capturing credit card details or an abandoned cart.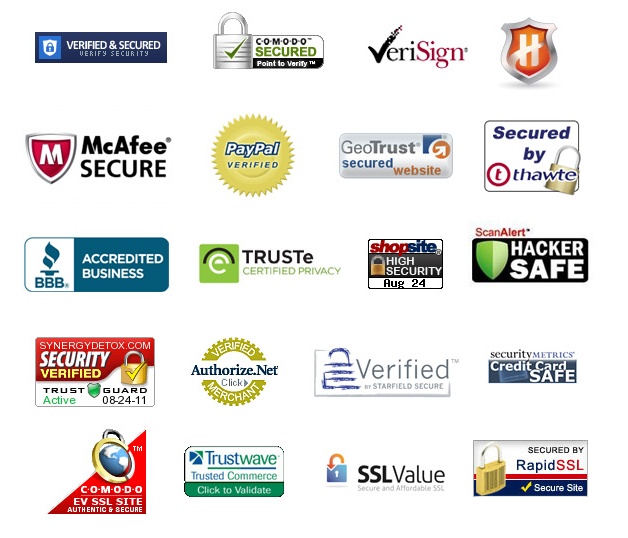 4. Be available for your customers at the point of sale
Just like in a brick and mortar store, customers are likely to have questions around your products, service, or even simply logistical questions around shipping, payment and delivery. One of the most reassuring thing to see as a customer at the point of sale, is a quick and easy way to seek support. As an online merchant, this means making yourself visibly available and easy to get in touch with.
There are a number of ways you can achieve this, including creating a chat bots, listing your support email and contact phone number, and even including a physical address in the footer of the page. Even if you're not always available to answer questions right way, this reassures the customer that should something go wrong, they can get in touch with you, and gives you the opportunity to front foot any questions before a customer leaves the cart without purchasing.
5. Keep shipping costs up-front and honest
We've all had the experience at one time or another of finding the most amazing product online, being pleasantly surprised by the price tag attached, only to get all the way to the shopping cart to realise that the shipping costs nearly as much as the product itself. Unexpectedly high shipping costs are so frustrating, that a invespcro.com study found that, 43% of cart abandonments were due to high shipping costs.
Shipping is expensive - we understand that as a merchant, sometimes lowering the cost of shipping isn't a viable option, especially off the back of COVID-19 changes. That said, simply being upfront about the shipping price earlier in the purchase process will build trust with your customers and allows you to build a database of customers who value your product enough to pay for the shipping costs associated. It's a win-win.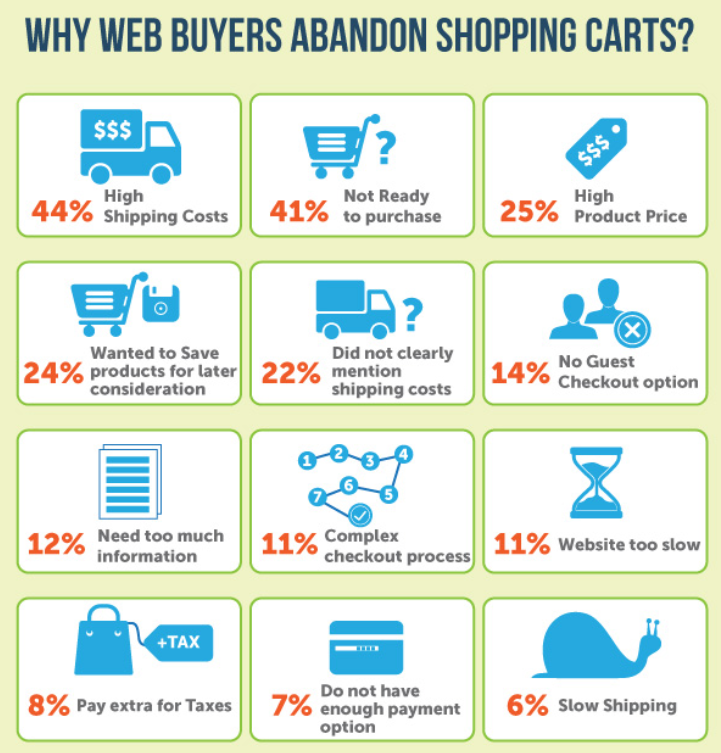 6. On a conversion landing page, less is more
Shopping carts don't have to be complex. One of the biggest mistakes that retailers make is creating a landing page that's convoluted, difficult to follow and asks a lot of its customers. Some of the most common examples of this include unnecessarily long forms with multiple optional fields to fill out, a number of CTA's leading to different actions, or even a design that's confusing to navigate with the human eye.
If we were to relate this to real life shopping, a complete shopping cart page is akin to heading to the counter of your favourite retail store and being asked to sign up to a mailing list, donate to a cause, be upsold to purchase something you didn't intend to buy, and then being asked to give feedback on your experience - all in quick succession. Usually, when a customer arrives at the counter they have one goal: to purchase what's in their cart. Keep it simple, make it easy, and high conversion rates will follow.
7. Include a progress bar
If there's one thing we know about eCommerce conversion rates, it's that any uncertainty can cause a drop in sales. One of the ways that this uncertainty manifests itself is in the lack of a 'progress bar'. Customers like to know where they're at during each stage of their purchasing journey, and often need to feel motivated enough to complete the required steps. There's nothing better to help this along than showing your customers the finish line.
This simple addition also eliminates the fear of hitting the 'next' button and accidentally confirming and paying for an order they're not quite sure about yet. Simply seeing the word 'confirm' at the end of the progress bar lets your customers know that they'll be able to review the order before paying, and again creates a sense of trust and respect.

8. Harness the fear of missing out
When a customer arrives at the checkout, they often feel as though there's no real time pressure around when they need to make their purchasing decision by. The good news is you have the power to incite the urge to take action in your customers. As SEO guru Neil Patel puts it: "By introducing some urgency into your checkout process, you'll be able to push a percentage of those who are in 'just browsing mode' into 'buying mode."
There are a few ways to do this, including providing information on stock levels and availability, including a checkout timer (this is commonly seen in event ticket sales where a 'seat' is only held for a limited amount of time), or even limited time discount offers for those who purchase within a specified timeframe. These are all prompts that give your audience a psychological nudge to take action, and can make all the difference in conversion rates.
We're transforming our product offering to help merchants continue to adapt, grow and thrive - no matter how they take payment. Check out the latest Eftpos NZ update to find out how.