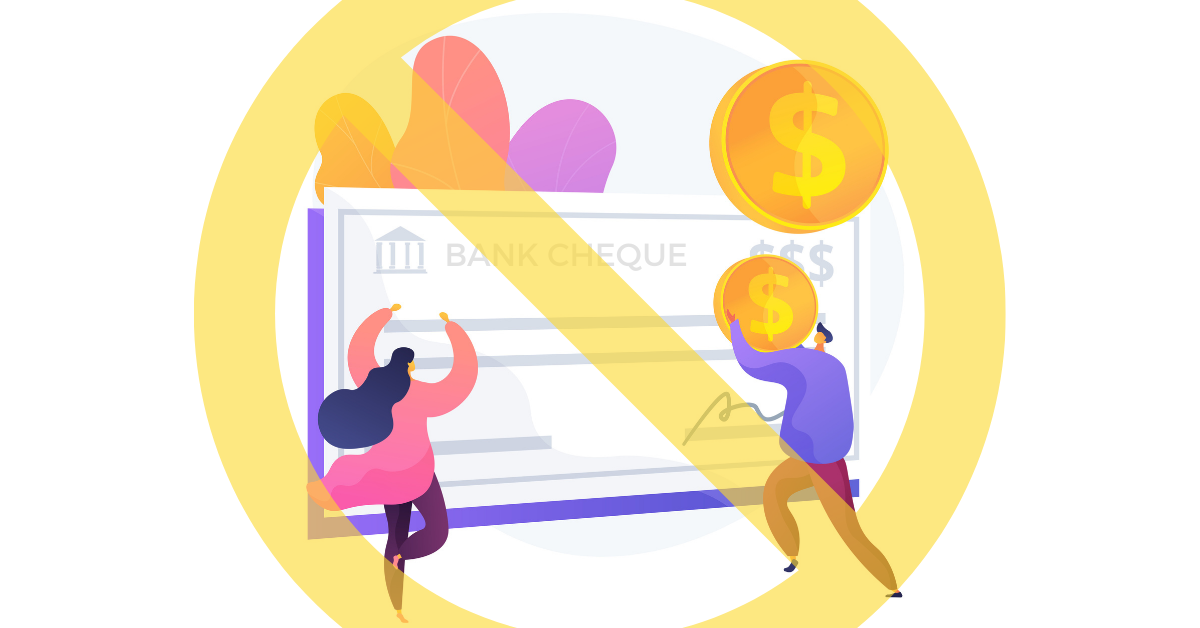 Over the next few months, most of the major banks in New Zealand are phasing out cheques, as payment technology advances and digital payment methods become the norm.
In this blog, we explore why cheques are being phased out, what the best alternatives are – particularly for small businesses who still accept cheques as a form of payment, and why switching to EFTPOS is the next best step forward for your business.
Why are cheques being phased out in NZ?
With the growth of online and digital payment services over the last decade, the use of cheques as a payment method has significantly declined. ASB reported that less than 1% of their customers' payments were being made by cheque. The main reason for this shift is that customers want safer and faster ways of paying.
Digital payment options come with a range of benefits, from convenience to security and faster processing times. The major banks in NZ have stopped issuing cheque books and over the next few months they will also stop accepting cheques altogether. Some banks like Kiwibank have already gone cheque-free! Here are the key dates for when the other banks will stop accepting cheques:
| | |
| --- | --- |
| 31 May 2021 | ANZ stops cheques |
| 25 June 2021 | Westpac stops cheques |
| 30 June 2021 | BNZ stops cheques |
| 27 August 2021 | ASB stops cheques |
What's the best alternative for small businesses?
Many small businesses still accept cheques as a payment method, particularly businesses that issue invoices or need to accept large amounts of money, for example, tradies. Most small businesses that still accept cheques accept a combination of cash, cheques and internet banking. But now that the banks are phasing cheques out, many businesses are moving towards solely accepting digital transactions, including online payments via a website or card payments using an EFTPOS terminal.
The best alternative to cheques is to choose a payment solution that not only supports your need to take payments, but simplifies the payment process for you, your staff, and your customers (and your accountant!). You need a digital solution that:
Enables your staff to take on-the-go payments from customers easily
Allows for faster payment processing times to help with cash flow
Makes reconciling payments easier by reducing cash handling
Reduces the risks of keeping large amounts of cash on-site
For any businesses that typically invoice their customers, now is the time to move to a digital payment solution.
Why switch to EFTPOS?
Getting started with EFTPOS is fast and simple, so you can transition away from accepting cheques in the smoothest way possible.
There are plenty of benefits to choosing EFTPOS:
EFTPOS is convenient, giving you more opportunity to take payments on-the-go instead of waiting for cheques to arrive in the mail and then cashing them at the bank.
You can process 'card not present' payments over the phone or via email, which means that your customers don't need to come to your office to use their EFTPOS or credit card to pay you!
Customers can use their preferred payment methods, including credit cards - which is particularly attractive for customers paying for higher ticket items or services, as they may not have the cash on-hand.
Going digital saves on time and money, because EFTPOS transactions are much easier for your accountant to reconcile.
EFTPOS is also much less risky than accepting cheques or cash, because you aren't keeping cash and/or cheques on your premises.
EFTPOS transactions settle in your account the next day, which means you get paid faster which helps with cash flow.
You can include surcharging on your terminal, so you can recoup the cost of accepting credit card payments.
Switching to EFTPOS will not only save you time and money but also give you peace of mind that all your payments are handled securely. EFTPOS can also make the payment process simpler for both your staff and your customers.
We want to support your business to get up and running with EFTPOS as swiftly as possible, but don't just take it from us – here's a testimonial from a company we recently helped make the switch over to EFTPOS:
"EFTPOS was very efficient and very helpful to deal with. They answered my questions promptly and advised which unit would suit us the best. The installer was prompt once we had signed the contract to install our device and made sure we knew how to work it properly." - Jenny G, Marshall Electrical Ltd
Contact us now to speak with our team about getting started with EFTPOS:
Do you still use cheques to receive payments? Let us know in the comments below.