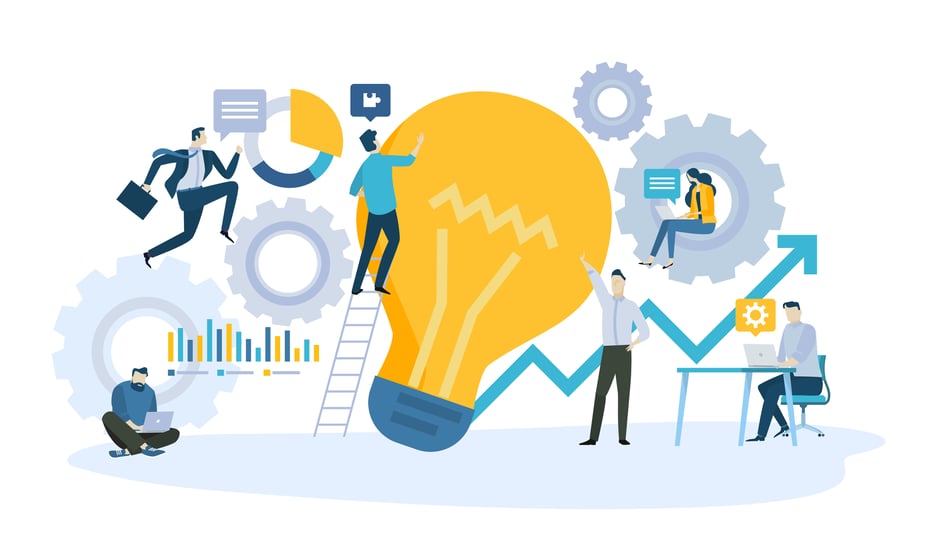 It may sound cheesy, but Winston Churchill said it best when he said; "He who fails to plan, is planning to fail."
This sound advice is applicable to any business model, but especially small businesses in New Zealand looking not only to maintain their momentum, but grow.
Below are nine strategies that New Zealand small business owners can implement to grow their established business and achieve further success.
The Ansoff Matrix: Strategies for Growth
Igor Ansoff was an applied mathematician and successful businessman who developed the Ansoff Matrix. He believed that there were only four growth strategies available to a business - market penetration, market development, product development or diversification. However in our experience working with small businesses, there are a handful more tactics you can enact in your growth strategy to ensure success.
It's important to note that if you're a newly established business, it's recommended to only focus on one or two strategies at a time rather than diving into all four. Market penetration should be the first strategy you look at and then possibly market development.
1. Market Penetration
Market penetration involves finding ways of selling more of your existing products or services to your existing customer base. Market penetration is the lowest risk strategy from the matrix and doesn't require much investment which makes it a good option for start-ups or small cash-strapped businesses.
Lighter Capital recommends the following tactics to implement a market penetration strategy:
Lowering or raising prices
Acquiring a competitor in your market
Revamping your digital marketing roadmap to increase brand awareness
Modifying your products to specifically solve your customer's problems
Developing new products to attract new customers
2. Market development
Market development involves expanding the promotion of your goods or services to a new clientele or new geographical area which may not have been previously targeted.
If you have always considered one specific group your target audience and have tailored all your marketing and tone of voice towards them, perhaps it's time to shake things up and consider other groups that also may be interested in your product or services but simply haven't come across them yet.
If this is the case for you, we'd highly recommend thinking about expanding your Facebook or Instagram advertisement targeting and broadening the range or looking into a totally different audience to see what sticks.
3. Product development
Product development is about working out how you can improve or alter your existing offer or develop new products to cater to your existing markets.
Ask yourself can you use more affordable manufacturers, can you improve the quality of the product, can you switch up the packaging? This strategy requires a lot of research and existing customer feedback can be very helpful here.
Corporate Finance Institute recommends the following ways to implement this strategy:
Investing in research and development to develop new products to cater to the existing market
Acquiring a competitor's product and merging resources to create a new product that better meets the need of the existing market
Forming strategic partnerships with other firms to gain access to each partner's distribution channels or brand
4. Diversification
Diversification involves developing new products to introduce in new markets that your business currently isn't operating in.
Diversification can allow a company to minimize the risk of an industry downturn, boost its brand image, and it can also be used as a defense mechanism to protect a company from strong competition.
But diversification is also the strategy from the matrix that carries the most risk and is the most complex to execute. The reason for this is that when a business is venturing into an unknown market with no experience, they are stepping into uncertainty.
Developing new products and trying to break into a new market is also time consuming and requires a lot of hands on deck. Therefore it's recommended that a business only dip their toe into diversification strategy when they feel they have exhausted all other avenues with the product or service they currently offer.
5. Strengthening your Online Presence
Most small business owners will be all over social media already, having recognised its importance in promoting their business. If you want to find out more about online marketing strategies, check out this blog post where we covered this very topic.
However, according to B2B research firm Clutch.co, less than two thirds (64%) of small businesses actually have their own websites. Knowing how important an easy to use, aesthetically inviting website is, it's very surprising that so many small businesses are ignoring this very obvious route of promotion and growth.
Even if your business is brick and mortar and you don't have an online offering, it's so important to have an online presence. That's how people find you and customers expect to find some kind of website, even if it's very basic.
6. Changing up your digital marketing
If you're pumping out content on Facebook or Instagram and not seeing any results or you're finding that measurable growth has become stagnant - the platform you're using to promote your business may need a switch up.
It's important to consider your target audience and what platforms they are engaging with. We know that YouTube is a great place to market to millennials, but we also know that 60% of people discover a new product via Instagram.
Refining who you are talking to, on what platform and what the call to action is, will help you have a clear digital marketing growth strategy, check out this helpful article if you don't know where to start.
7. Collaborate with like-minded businesses
One of the easiest ways to get in front of new eyeballs and reach a new customer base is by teaming up with like-minded businesses, influencers or brand ambassadors.
Joining forces with a similar business or one with a customer base and values that appeal to you, can be a win-win situation.
Examples of great collaborations in New Zealand include premium chocolate brand Whittaker's teaming up with Wellington brewery Garage Project for a beer collaboration that boosts both their profiles and gives them something new to say.
8. Engage brand ambassadors
If a fully-blown business to business collaboration isn't right for you, perhaps researching and reaching out to online influencers or media personalities with a following to engage as a brand ambassador might be a good option.
Depending on the relationship you have with the brand ambassador and if they are represented by a talent agency, you may be able to negotiate a contra deal where no payment is exchanged, instead just goods or services, or alternatively you may be required to contract them on an ongoing paid basis with guaranteed consistent exposure.
New Zealand's recent Advertising Standard Authorities guidelines in some ways have muddied the waters and made it slightly difficult to define when money has exchanged hands, but in other ways made the process extremely transparent, with any person of influence online required to identify adverts even if the payment was in the form of goods or services.
A great example of a Kiwi company engaging brand ambassadors to reach new audiences is Silver Fern Farms, a New Zealand food company that exports grass-fed beef, lamb and venison.
Silver Fern Farms teams up with local online personalities on a regular basis, giving them creative freedom to produce content that resonates with their own audience and is mutually beneficial to both parties.
9. Growth hacking
The term growth hacking was first coined by Sean Ellis, then marketing manager of PayPal, now CEO of GrowthHackers.com, when he was looking for an online marketer with knowledge of data, product, tech and marketing.
The word 'hacking' is a metaphor to grow in a different, cheaper or faster way, which is why it's so beneficial for small businesses with limited marketing resources.
Growth hacking is hard to simply define as it encompasses many elements, but it's helpful for small businesses because it helps you stand out in a crowded market and stay ahead of your competition with a minimal investment.
This helpful article lists 7 simple growth hacks small businesses can implement, including things like retargeting ads to customers who have visited your website to push them through the marketing funnel from consideration to conversion, website pop-ups to encourage user surveys, feedback or newsletter sign ups, and offering free, useful and interesting content to keep customers coming back.