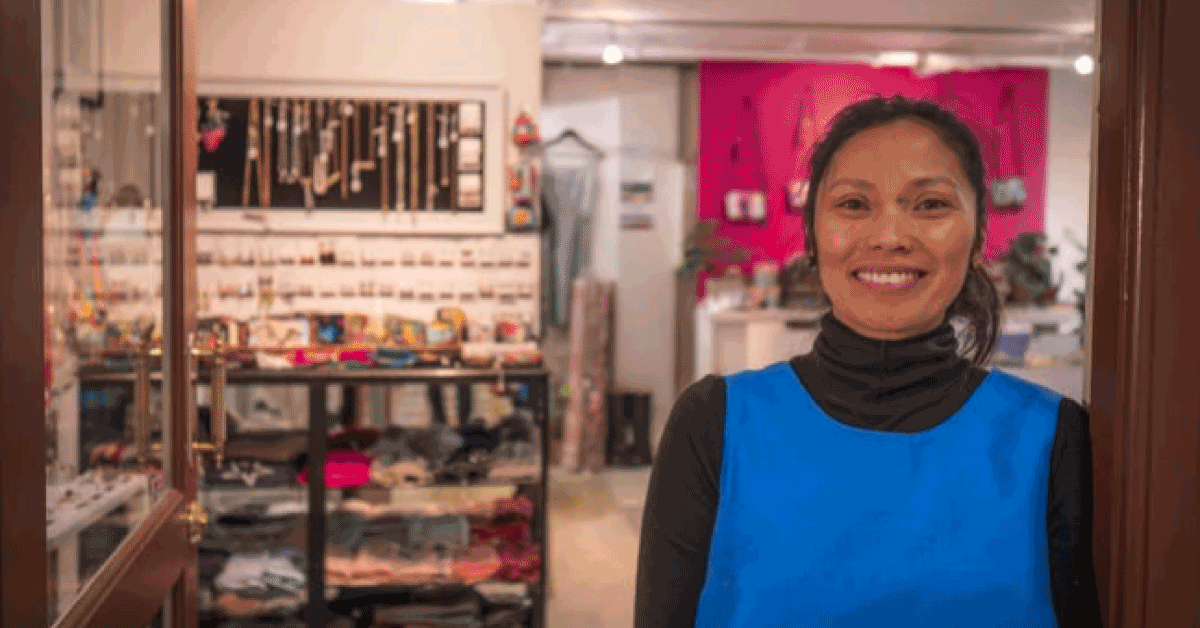 Rosalyn Vitualla is proof that dreams really do come true! "It's always been my dream since I was a child to have a shop full of bright, colourful dresses and accessories". Rosalyn is the pint-sized founder of Missy's Room, a woman's fashion boutique in Wellington's Old Bank Arcade, and long-time customer of Eftpos NZ.
"I don't feel small!", says Rosalyn. What Rosalyn lacks in height she more than makes up for in character. Her bright, vivacious personality perfectly matches her dresses which she sews herself in-store using prints she helped design herself, as well as fabric she imports from the USA and Japan.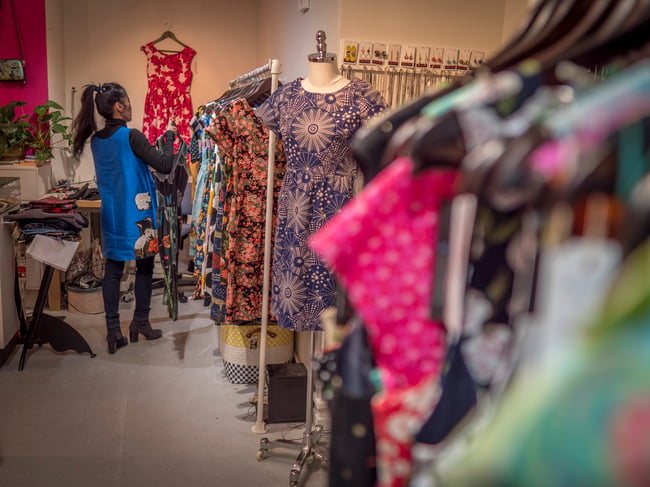 Dreaming big
Rosalyn grew up in the Philippines and got her start in business at just six years old helping to keep food on the table, "My family was very poor, so we all helped out. I used to sell anything I could find in the forest like wild fruits and edible greens".
A self-taught seamstress and designer, Rosalyn opened the first Missy's Room in Newtown, Wellington in 2004 selling vintage clothing as well as her own dresses. She organically grew the brand, first relocating to Wellington's eclectic Cuba street before finally moving to the Old Bank Arcade in Wellington's CBD to focus on her own label, "It's so central and the building is just beautiful".
Survival continues to be a driving factor for Rosalyn. While Missy's Room is her passion she insists she's a mum first, "My business is my work like everyone else. My biggest achievement is providing for my children. I'm just a solo mum, providing for my kids".
What makes Missy's Room so special?
Rosalyn is sure it's her fun-loving personality as well as her skills at the sewing machine that keep her customers coming back, "My customers choose me because I'm good at what I do and I'm fun!".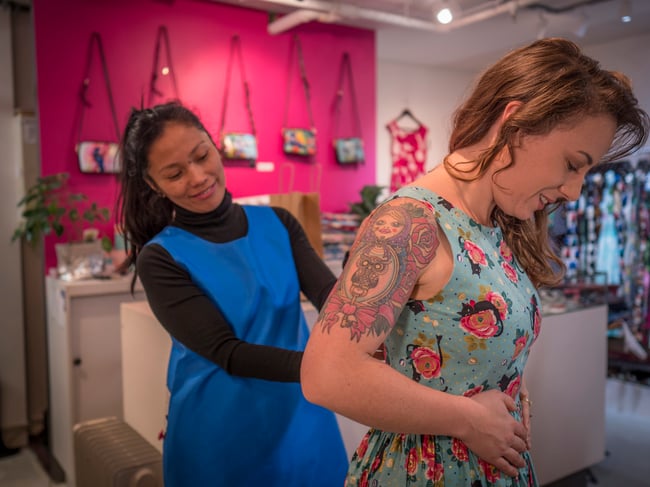 Rosalyn's creative flair and attention to detail is evident in every dress she makes, and her willingness to go the extra mile for her customers shines through, "Customers can choose the style and fabric they'd like, or if they like something off the rack, but it needs adjustments, I'll adjust the dress at no extra cost".
Customer experience is key
Rosalyn's niche is "Fun women who are not afraid to wear bright feminine, fun frocks". She catches their attention by offering the products and services of a small boutique at the speed of a fast-fashion chain store.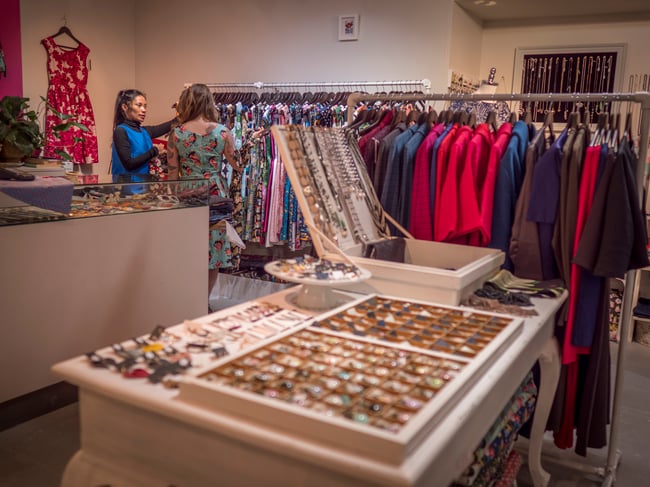 Rosalyn says it's important to make sure you stand out from the crowd when it comes to customer experience. She focuses on offering a special experience customers can't get online or in other stores. Aside from offering limited edition, custom-made dresses in hard-to-find prints Rosalyn is also super fast.
She's so fast, she can even make adjustments while her customer waits, "I can make adjustments on dresses while my customers have fun trying on other dresses, or a customer can put an order through in the morning and I'll have it ready to pick up by the afternoon"'.
Small business wizz
It's not all frocks and fun though! Owning a small business takes hard work and determination, according to Rosalyn. "Owning a business is unpredictable but it's rewarding." says Rosalyn. "My responsibilities as a business owner are to pay my rent on time, pay my tax on time, pay my suppliers on time, and make my customers happy with each and every purchase".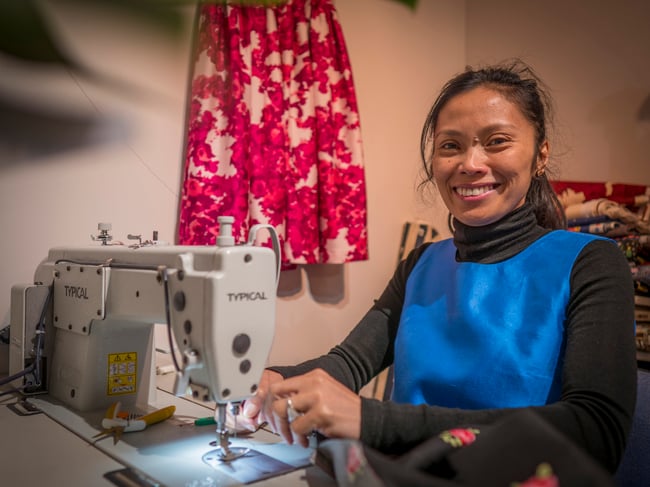 To lighten the load Rosalyn hires two part time employees, uses a professional accountant, and enlists her daughter to help with marketing on Facebook, "Most of my customers come from walk-bys and word-of-mouth though".
Keeping it simple
With a loyal following and clear idea of the products and services Rosalyn can confidently deliver, she also knows her limits, "I have turned down someone, because she was expecting more than what I can deliver".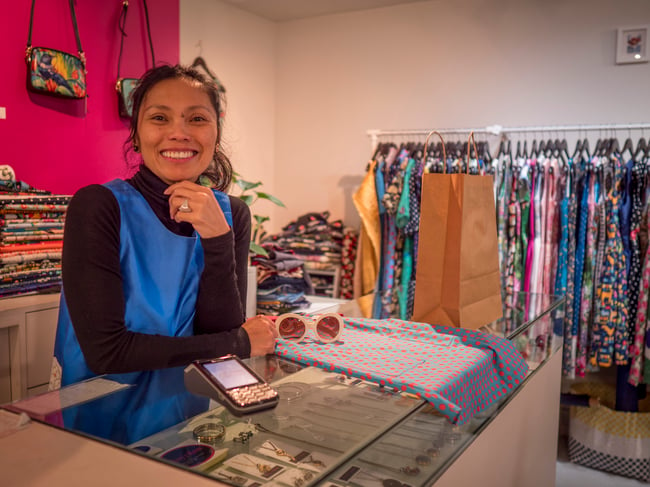 Her keep it simple philosophy is evident in her tech set-up too. Rosalyn insists she doesn't need all the bells and whistles to keep her business going. The only two pieces of technology she uses consistently are her Eftpos NZ VX 690 and her cellphone.
Where to next for Missy's Room?
"My goals at the moment are to grow my business and supply other stores nationally", says Rosalyn. "In a year or two or more, I'd like to be still open and growing and hopefully employ some more people".
Her parting words? "Follow your dream, work hard for it, and be determined."
Share your story with us!
Inspire other small business owners and share your small business story with us. There's a $100 Eftpos NZ account credit up for grabs each month! Send an email to team@eftpos.co.nz.