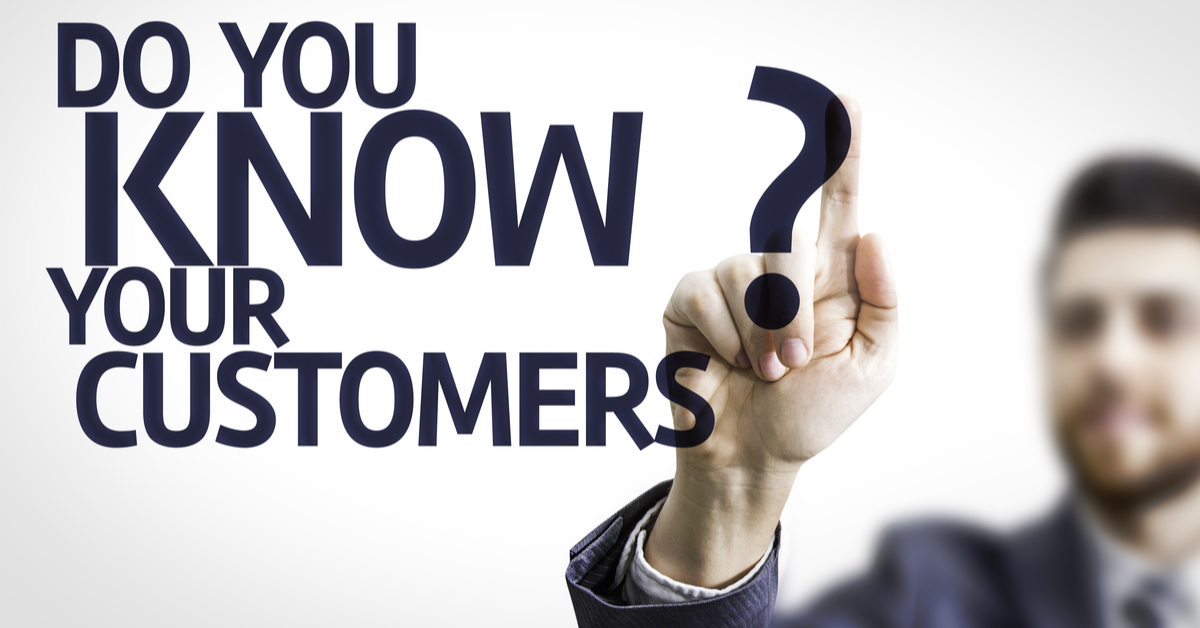 You've managed to get customers to your store thanks to some excellent marketing, word-of-mouth referrals and goods and services so great that they're hard for customers to refuse - that's your job as a retailer done, right?
Not quite. In the world of modern commerce, customers are now accustomed to a level of service and relationship building that goes beyond attracting people to your store and closing a sale. If you want to compete, you've got to find innovative ways to continue communication with your customers even after they've left your store.
Why? Well, put simply: it's worth your time.
Statistically speaking, a new customer costs 5x as much as retaining an existing customer does, plus if you put in the ground work to stay connected, the probability of selling to an existing customer is 60-70% (Marketing Metrics).
Worth it, right?
With all that in mind, how do we begin to create a lasting connection with our wonderful customers who spend money in our businesses? Here are our top five tips.
Create an Ongoing Emotional Connection
Research shows that consumer's buying patterns are highly influenced by emotion, both before and after purchase. Studies show that positive emotions toward a brand have a far greater influence on consumer loyalty than trust and other judgments, which are based on a brand's attributes.
So how do we trigger those emotive responses that drive loyalty and customer retention? The answer is through a many-pronged and diverse approach to communication after a purchase. Your goal is to be personal and make your customer feel genuinely valued by your business.
Here's what we mean:
There is nothing more personal than a handwritten note. It might seem like a large investment to take the time to write out thank you notes to include with your customers' orders, but the emotional response your customer will experience to you showing you care on a personal level will pay long-term dividends. This is particularly effective if you have a small business and it's conceivable that the owner would take the time to hand-write thank-you's themselves. Plus, if you're crafty about it, you can tell your customers where they can find you online to continue the connection.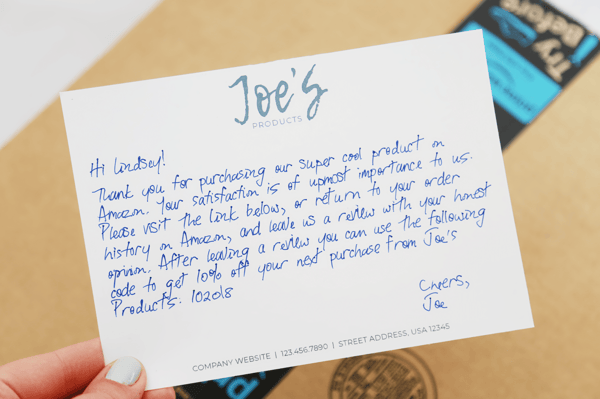 If you're lucky enough to get hold of your customers email address by asking for it in-store, your lead generation marketing online, or simply through your e-commerce shopping cart service you've got all you need to start email marketing to your future repeat-customers. Just remember to always ask for permission first!
There are many ways you can use email marketing to connect with your customers and make them feel valued. It could be anything from a monthly newsletter offering insights, tips and offers, or even a simple 'Merry Christmas' when the season is right. Plus, you can make it super personal and send things like Happy Birthday Discounts and return customer promotions.
All of these points of contact show your customer that you're still here, you still care and you've got loads to offer them even after they've bought from you. Plus, your name and brand will be at the tip of their tongue when they're ready to buy again.
Social Media Dialogue
How long do you spend every day browsing Facebook or Instagram? Social media gives your business an 'in' to your customers' daily routine. Despite what you may think, it is possible to forge a genuine connection with your customers via social media. Unlike a catalogue in a 'no junk-mail' letterbox, your customers are only going to see what you're posting on your page if they've consented to it through following you (organic reach, specifically).
This your opportunity to develop a 'personality' for your brand and show your customers what you're all about. But remember, as social media is inherently social, it can't just be all about you.
In the same way you'd get frustrated by a friend who only talked about themselves, it's important not to be that guy on social media. Share things that are funny, articles that are relevant, posts that your followers will love and offers exclusively for your customers. That way when it comes to promoting your new products, services or next sale, your audience isn't over-saturated and underwhelmed.
Finally, social media is a two-way dialogue. Don't forget to insert yourself into the conversation. Respond to comments, like people's posts, share your followers content and return the favour and tag away. Engagement is exponential when you take a hands on approach.
Personalised Customer Service Strategy
When someone does something that's above and beyond what we expected and the extra effort surprises and delights us, two things happen. One; we are triggered to associate a positive emotion to the business or person who put in the extra effort and we're more likely to passionately share the experience. Two; we remember that business or person.
As a business, your customer service strategy should aim to go out of your way to make yourself memorable through delighting your customers. Plus, with all the tools available to us through social media and data, it's becoming more and more possible to add a personal touch to our efforts.
Gary Vee explains this concept of customer service strategy and personalisation perfectly in his WineLibrary example. See below.
Here, Gary goes out of his way to use social media tools to gain an insight into the customer and what they're passionate about. In this instance, it's the Memphis Grizzlies basketball team. He sends a signed shirt to the customer, who is emotively triggered and proceeds to share the experience with a close friend, who in turn orders $4800 of red wine from his business.
The lesson to be learned here when it comes to personalising a customer service strategy, as Gary puts it, is that "the thing that matters more than anything is intent and effort". If we go the extra mile, our customers will return the favour through either repeat business and loyalty, or as in this example, referral.
Responding when Customers Reach Out
"Happy customers who get their issue resolved tell 4 to 6 people about their experience. So that's a way to significantly influence the word of mouth about your business. Don't act as a nameless or faceless business; genuinely talk with your customers as a person representing the business. Address your customers by name, and tell them your name at the very beginning of your interaction." - Kissmetrics
When customers reach out to you after they've made a purchase or subscribed to your service, responding quickly and thoughtfully is the best way to maintain a connection post-purchase - even if the feedback is negative.
There are a number of ways your business can achieve this:
Responding to Google Reviews
If a customer takes the time to write a review about your business online, responding to the review (regardless of whether it's positive or negative) is crucial, as new customers look to online reviews when choosing a new store or restaurant to bring their business to. Make sure to address any review honestly, politely and promptly and always offer a solution. Or, if they're just popping by to tell you you're great - thank them!
Replying to social media messages
Social media messaging has become the new 'email' for customers who wish to make a complaint and get in touch with your business. The expectation attached to these messages that didn't exist with email is that they should receive an instantaneous response. After all, it is instant messaging. Plus, Facebook now publicises how quick you are to respond to messages and a fast response time says 'good service' to any potential customers looking in.

Replying to social media posts
The same goes with public posts on your business social media profile. As these are open for everyone to view, they have a tendency to go viral if they're particularly notable, so make sure you're quick to offer a solution and if it's a message someone's put a lot of effort into, make sure to return the favour. A great example of this is the 2018 Warehouse NZ dryer debacle, where there Warehouse quickly responded with a lot of effort to a distraught shopper and received a tonne of kudos for their efforts and one happy customer at the end of the day.
CSR and Connecting with a Community
The final way we'd suggest to continue a relationship with your customers post-purchase, is to understand that as people we are all a part of a community and contributing positively to those very communities is a way of connecting on an emotive level with your customers.
Here's what we know: Goodwill helps to generate repeat business.
"as shoppers want to know the money they are spending is not going into one person's pocket, [but] is truly making a difference in the community they live in." - Adrianne Weissman, owner Evelyn & Arthur
Consider carefully how your company exhibits corporate social responsibility and contributes to the community. It's important, though, not to contribute for the sake of contributing or without genuine intentions. Customers have a keen eye for corporate plays of disingenuous nature, so if you're going to be socially responsible make sure it's for a cause that aligns with your brand.
How does EFTPOS NZ stay connected with its' customers?
When you power the payments of more than 50,000 Kiwi business owners, you've got to offer outstanding after-sales support.
We do our best to offer the best payment solutions in the market, but sometimes, unexpected issues may arise with your EFTPOS solution. That's why we work hard to ensure that your EFTPOS related issues and questions get prompt attention, so you can get back to running your business as quickly as possible.
You can find out more about how we keep a solid connection between our company and the Kiwi business owners that drive us, by offering superb customer support below.