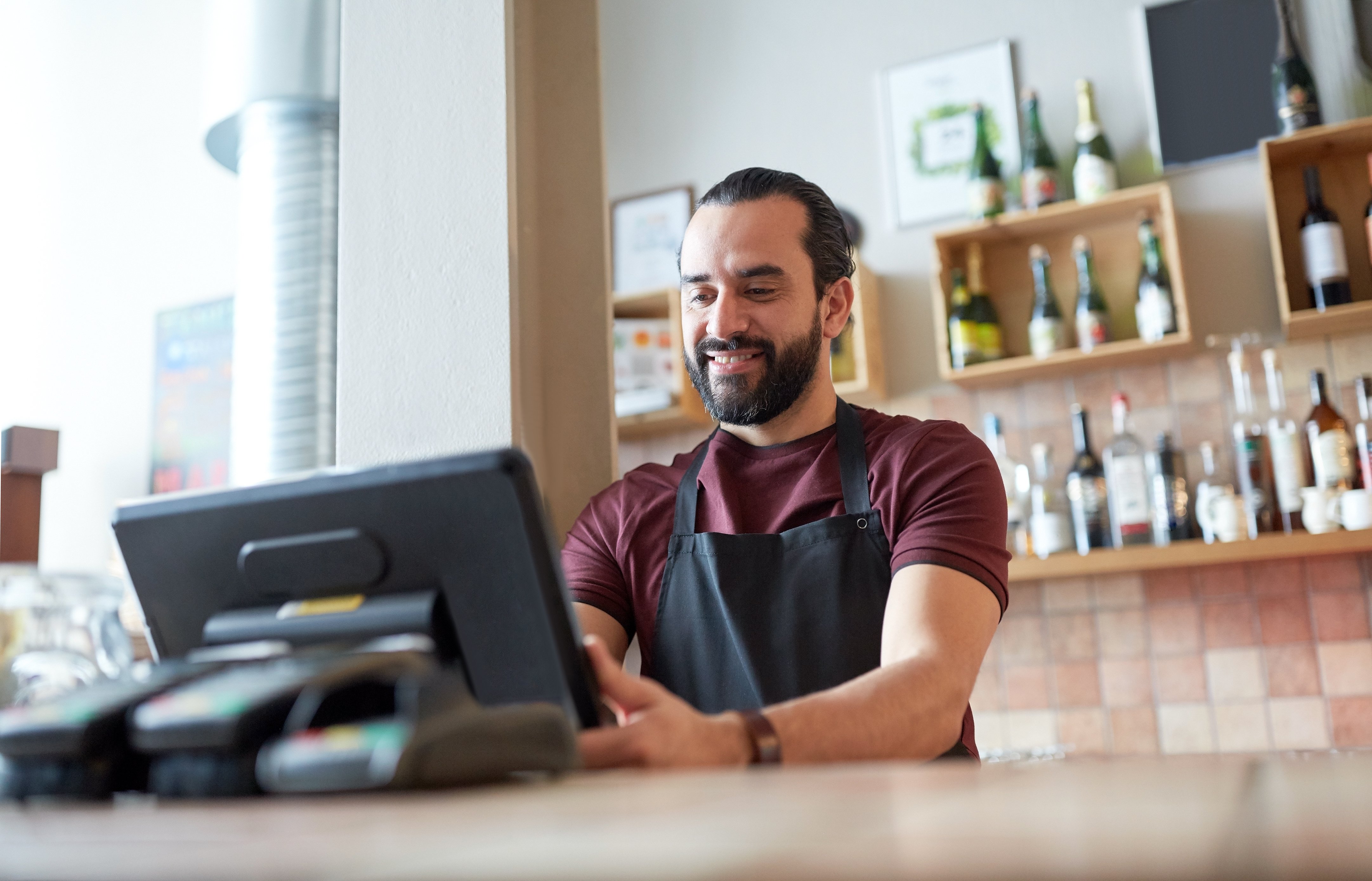 For any hospitality or retail business, choosing your point-of-sale (POS) solution is going to be one of the most important decisions you make. It's the tool that you'll use to accept and process payments, but beyond that, a good POS system will also allow you to manage inventory, sales customer data and integrate seamlessly with your EFTPOS machine.
One of the most common mistakes we see Kiwi business owners make on their payment processing journey is going for the cheapest or most familiar option straight off the bat, which can lead to incompatibility and sometimes hidden costs down the track.
So how do you choose the best POS system for your business? It's a matter of knowing your options, weighing up the pros and cons and understanding how the decision will impact your business in the future. We've put our heads together to compile our most useful tips for choosing a NZ POS systems, below.
If you have any questions, don't hesitate to ask our friendly EFTPOS experts.
What does a POS do?
The best place to start, is understanding what you need from a POS solution. A good point-of-sale system will;
connect with your EFTPOS terminal to process transactions
help serve customers and enhance their experience
be tailored to the unique needs of your industry
compile data to help manage your inventory
basic accounting functions
sync sales and customer data to help make informed business decisions
offer support and training solutions for your team
What to Consider Before Choosing your POS Solution
POS solutions aren't simply one-size-fits-all and just because a neighbouring business is successfully using a system, doesn't necessarily mean it'll be the perfect fit for your business' needs. To avoid getting caught out later down the track and having to switch providers (which can be an expensive process), we'd recommend looking into the following.
1. The size of your business
Businesses of different sizes require different features from POS solutions. When selecting your POS system, make sure to consider not only the size of your business now, but whether or not you're likely to scale in the future. For example, some POS systems such as Vend, allow you to manage several different locations and send reporting to a head office, whereas other solutions may only be suitable for a small business in a single location. Always make your choice with the next five years in mind.
2. Your industry
The next factor to take into consideration is the needs of your industry. POS solutions are often designed with specific industries in mind, and as a result have some unique and specific features that'll be more or less useful depending on what your day-to-day transactions look like. For example;
If you're working in the hospitality industry, a system like posBoss will allow you to remove clunky counter space hardware and use iPads or Android tablets to place orders and process transactions. That means your staff can do all of the leg-work at the customers' table which is a win-win. The customer doesn't have to lift a finger and gets a top-end experience, and the business owner reduces the risk of any dine-and-dashers or awkward bill splitting at the end of a meal. We'd also recommend looking into menu functionality, and how easily you'll be able to add and remove items as the food and drinks you offer change (big kudos to posBoss on their hospo compatibility here!).


On the other hand, if you're working in the retail industry, you might value a POS system that allows inventory management (again, Vend is a great one for this). Being able to view and manage the products you sell, add and remove colours and update pricing at the click of a button is a feature that's particularly important to most retailers. In addition, retail specific POS systems should allow for automation and reporting, so you're always up-to-date with low stock items and the admin is taken out of your hands.


There are even beauty industry specific options available too, such as Kitomba, that are tailored to allow for appointment bookings across a team of beauty specialists, as well as online bookings so that your customers can select sessions online and free up your time to tend to clients on site.
3. Your counter space - space and aesthetics
It's also important to consider the physical constraints of your counter space. If you have a tonne of counter space and you don't mind a clunkier machine, you might be less impacted by the hardware your POS system integrates easily with. On the contrary, if you're looking to streamline your space and value aesthetics (think boutiques and designer stores) you might want a POS system that offers an app so you can select your device.
Integrating your POS System with your EFTPOS Terminal
On it's own, your POS system won't be able to take EFTPOS or credit card transactions, you'll need to separately purchase or hire an EFTPOS terminal. For this reason, it's important to look into whether or not your desired POS system offers integration with your preferred EFTPOS terminal provider.
What is EFTPOS integration?
EFTPOS integration is defined as connecting your POS system to your terminal so that transactions can be initiated on one device and completed on the other without double-handling.
Why is considering EFTPOS integration important?
Getting your EFTPOS to POS integration sorted from the get-go means a faster, more convenient checkout experience for your customers, and eliminates the potential for errors that can occur when cashiers have to enter product information into your POS and then the purchase amount into the terminal.
Ideally, you'll want an EFTPOS and POS integration that supports debit, credit card and loyalty card schemes (DataGenius is an excellent option for this), manual PIN entry, purchase, cash-outs and refunds. As your business scales and your customer base grows, the complexity of transactions will only increase and as will the room for error - so get ahead of this curve with an integration solution as soon as you can.
You can find out more about the benefits of integration here, but the bottom line is to always ask if the POS your choosing can be easily integrated with your EFTPOS solution.
Cloud-Based vs. On-Premise POS Systems
There are two types of POS systems you can opt for in terms of where your information is stored.
On-premise POS systems or the traditional ones, operate within an internal network and use local servers in storing information. They work a lot like the programs that you use on your personal computer, which save data on your local drive.
Cloud-based POS software, on the other hand, store and process sales data online instead. This means you can use any internet-enabled device including tablets and iPads to power your POS. You can also login and access your sales data through any web browser - even when you're not onsite! If you're looking into a cloud-based POS that's wireless and Android powered for these reasons, we'd highly recommend checking out Jigsaw POS.
(definitions source; financesonline.com, mobiletransaction.org )
If you're not sure which type of POS system would work best for your business, here's a quick breakdown of the key differences between Cloud-based and On-premise POS systems.
| | |
| --- | --- |
| On-Premise | Cloud-Based |
| Software Licenses may be required | Access Software on any Device |
| Hardware usually provided with POS | Provide your own hardware |
| Often local onsite support | Often online/phone support only |
| Higher Upfront cost, typically lower ongoing costs | Lower upfront Cost, typically higher monthly costs |
| | Tiered functionality modelling – Bronze, silver etc. |
It comes down to your priorities - always weigh up which features your business is going to need most, and when in doubt, get in touch with an expert and ask the important questions around the differences.
The Cost of a POS System in New Zealand
Of course, when it comes to business decisions, one of the most important factors is how your POS solution will impact your bottom line. Most of the time, you want the best solution you can get for the lowest ticket price.
However, it isn't always as simple as the face-value lowest price. It's best to consider the overall combined cost of your EFTPOS terminal, network fees, bank fees and your new POS system. Some providers can bundle some of them items, which can be cheaper, but also might lock you into a higher priced option or limit your choices. Here's what to look out for to make sure you're making the right dollar-value decision for your business.
Avoid EFTPOS & POS Bundles
Some providers bundle an EFTPOS device and POS system together. At first, this might seem cheaper and simpler, but a cheaper monthly terminal fee can be offset by a higher cost per month for the POS or payment network compared to other providers. You might also end up paying for add-ons like integration and technical support, when this comes free from other providers.
No matter how you slice it you'll need at least three providers for your payment solution - your merchant Bank, a POS provider, a terminal provider and connection to a payment network.
The key takeaway here, is to look into the big picture pricing. It's not just about how cheap the POS system or bundle looks, it's about the hidden costs and sum of the network, bank, POS and EFTPOS rental fees involved. Don't buy into a bundle and inadvertently get stuck with a more expensive provider. It always pays to get comparative quotes from a range of POS and EFTPOS providers and make sure your understand everything you're subscription entitles you to, instead of going with what seems like the cheaper option.
You can check out more information on EFTPOS machine pricing here, or get in touch with us early so we can set you up with the right solution.
Want to talk through it with an expert?
Choosing a POS provider is a big decision with a lot of elements to weigh up. Take the stress away from the process and chat through it with one of our experts - we're happy to help.