We're working on an updated version of our POS integrated solution PC EFTPOS. This software release includes a bunch of new features and functionality, including compatibility with the Verifone e355 mobile device and TruRating.

Skip straight to stuff for developers.
What's new
Connect an e355 device to your POS via PC EFTPOS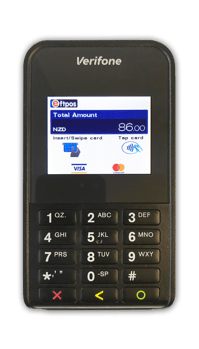 Now you can connect the e355 wireless mobile device to your PC EFTPOS integrated POS. Initiate transactions at your POS and process them anywhere in your store within your WiFi range.
TruRating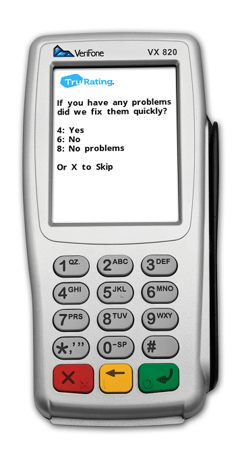 We've partnered with TruRating to bring a real-time customer feedback solution to our PC EFTPOS customers. One, simple question is delivered on your EFTPOS machine during payment and answered with a push of 0 to 9 on the EFTPOS PIN pad. Learn more here.
Alipay and WeChat Pay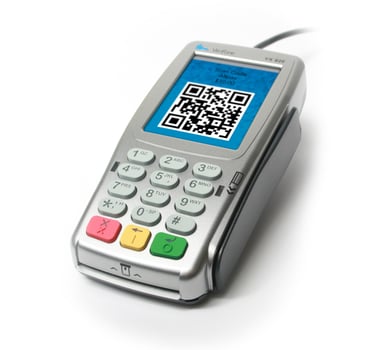 Accept payments from the world's biggest mobile payment apps on your PC EFTPOS POS integrated solution. A dynamic QR code is shown to your customer on the PIN pad and they simply scan it with their Alipay or WeChat Pay mobile apps to make payment.
Logo syncing
We've made improvements to ensure that if your PIN pads are swapped out your logo syncs seamlessly to your new devices.
Amex contactless expresspay now available
PC EFTPOS now supports Amex expresspay contactless cards.
Currency conversion
PC EFTPOS is now compatible with currency conversion. With currency conversion you can offer your international customers the option of paying in their home currency, instead of NZD. Knowing exactly how much they are being charged in their currency gives your customers peace of mind and can potentially earn you a rebate on your bank merchant fees. The solution is only available with some merchant acquiring banks - get in touch if you'd like to know more.
Get updated when these features go live
Fill in the form below and you'll send you an update when this version of PC EFTPOS is ready for release!
Stuff for developers
Support for surcharging
Credit card surcharging is now compatible with PC EFTPOS. Your customers can apply a surcharge to credit card transactions to offset their cost of acceptance. Merchants can set minimum and maximum amounts and choose to only apply the surcharge to transactions over or under a nominated value. They can also surcharge different credit cards at different rates to reflect different costs of acceptance
Support for tipping
Tipping is now compatible with PC EFTPOS integrated terminals. Accepting tips electronically is a great value-add to offer customers in the hospitality industry. The Eftpos NZ tipping solution is non-obtrusive and easy to us it. Servers can supress or activate the tipping screen for each transaction. Customers choose the dollar value they want to add to their bill as a tip. Reporting allows managers to see tip totals by team member and a full summary of all tips at a site.
Send an email to developersportal@eftpos.co.nz if you'd like more information about developing your POS solution to offer surcharging or tipping to your customers.