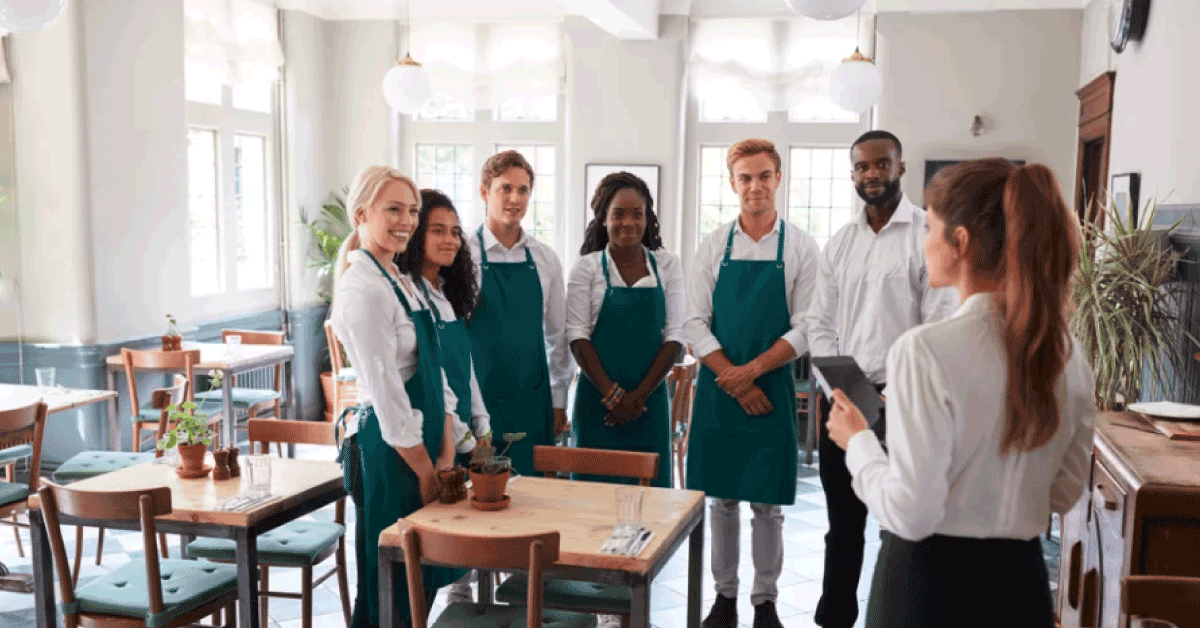 There are several perks of working in hospo.
You get to meet new people every day, sometimes, celebrities too. And how can we not mention the free sumptuous meals, cooked by professional chefs, that you get to enjoy at every break.
But it's not always easy. Sometimes, you have to face angry customers who complain, while other times you're understaffed or your staff members aren't motivated enough.
Hospitality is one of those industries in which staff members need to be happy and satisfied at all times, otherwise the negativity will affect your customers' experience with your business.
To help deliver a positive experience to your customers, we've compiled a list of 5 employee motivation tips to help keep your hospitality staff motivated.
1. Encourage constant learning
Let's face it, doing the same repetitive job day in day out can make your employees feel stagnated and, eventually, they may start resenting their profession.
One way to keep them motivated is providing them constant learning opportunities, ideally, every week.
These can include one-on-one training, role playing, workshops and, every once in a while, sending them to a seminar, if possible.
(Read more: How to train new staff to use EFTPOS terminal)
"One of the primary reasons why a lot of hotel employees resign is because they feel stuck, that they're not growing or evolving in their jobs."
-Rupesh Patel, Founder, SmartGuests.com
Make them feel like these learning sessions don't just revolve around hospitality, but they can also use these lessons in their day-to-day life.
(Download our latest guide How Customer Experience is the Key to Growing Your Hospo Business, in which we dig deep into the customers' psyche and understand what makes them choose your business.)
2. Create a sense of community at work
If you manage a hospitality business in New Zealand, it's highly likely that a significant number of your staff members are on a temporary work visa.
You're probably used to seeing different faces and hearing various accents every day - so are they.
For this reason, it can be really challenging to build a cohesive team, which is extremely crucial to run the daily business operations smoothly.
Creating a sense of community will reduce friction among the staff members. This is how you can achieve it:
Give staff members at least 10 minutes to introduce themselves to each other - consider this your icebreaker.
Request the permanent staff to be respectful to casual staff and make them feel like a part of the team.
Encourage the team to walk the extra mile and think beyond their job description. For example, a waiter helping the bartender when the bar's super busy.
3. Offer incentives to staff members who perform
Ask yourself - why should your team members work hard and over-deliver if they're not going receive any incentives for doing so?
Earlier, we mentioned that doing the same tasks again and again can make employees feel stagnated; not offering incentives to the top-performers has the same effect.
If you're under-staffed and they're ready to work that extra shift they aren't supposed to, they deserve more than just a 'thank you'.
If you praise and reward those who are performing, others will get motivated to do the same.
There are lots of tangible incentives that you can offer the employees who exceed your expectations.
It doesn't take much. A bottle of wine or a free dinner can go a long way to making an employee feel valued and appreciated.
(You might also like: The Ultimate Guide to Handling Hospo Staff)
4. Offer them career growth options
A lot of hospitality jobs can seem like a dead-end, especially the casual ones.
"Plenty of those who work casual jobs would rather not be in them."
-NZ Herald
Whether it's your permanent or casual staff, try and discuss what their future aspirations are and how you can help.
A little empathy goes a long way, especially in an industry like hospitality, where employees need to have smiles on their faces throughout their shift.
Tell them precisely what it takes to thrive in the hospitality industry, if that's their chosen path.
For example, what sort of training and connections are required to become the chef de partie of a famous restaurant?
How can they use transferable skills from previous jobs as a stepping stone for getting promoted in hospitality?
5. Print their name on business cards
Giving business cards is a time-tested method for motivating employees in an organisation.
Your employees will feel a sense of belonging, not to mention responsibility, when you officially offer them a business card with their and your business's name written on it.
There's a strategic reason behind this as well.
Your staff members will be able to hand business cards to potential guests or other stakeholders and communicate with them directly, instead of you having to answer every phone call or responding to emails yourself.
Did you know? 2739 new hospitality businesses opened in New Zealand in 2017.
This means you have to be more than just "good food" if you want to succeed in this highly competitive industry.
Download our latest guide How Customer Experience is the Key to Growing Your Hospo Business, in which we dig deep into the customers' psyche and understand what makes them choose your business.
Get yours now. It's free!
While you're here, why not check out our hospitality related content, covering topics such as restaurant payment processing, growing your restaurant and dine and dash?
Editors note: blog content updated on April 22, 2020