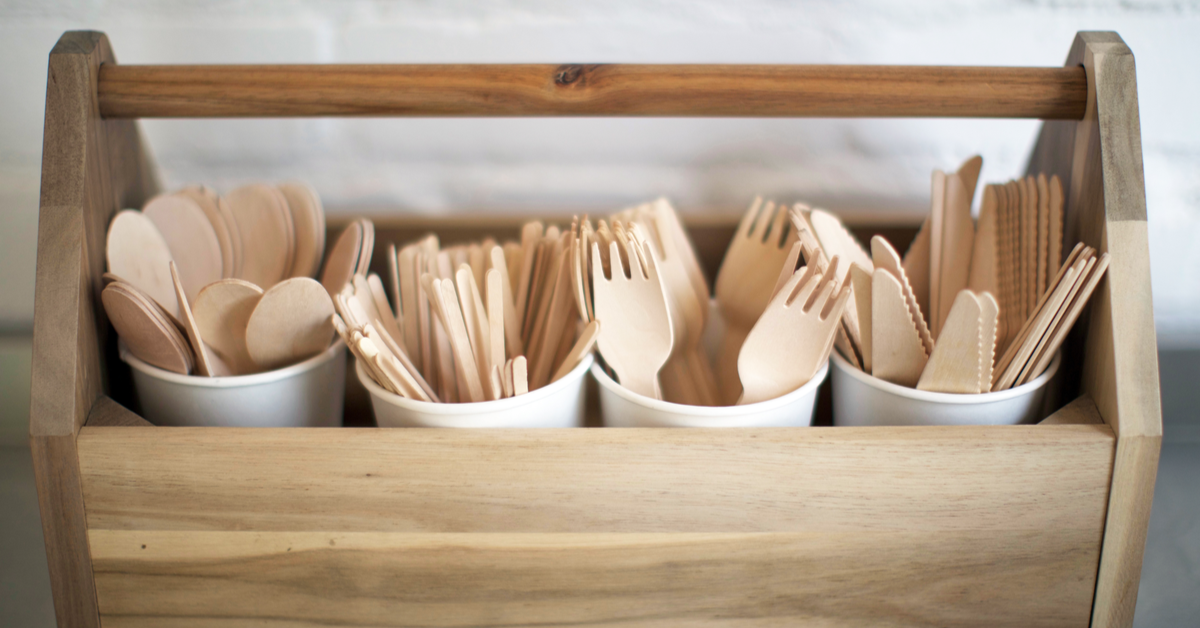 With the rise of the 'eco-consumer' whose purchasing decisions are dictated by more ethical factors than price alone, as well as an increase in corporate social and environmental awareness, more and more restaurants, bars, cafes and hotels are turning their heads to corporate social responsibility (CSR).
As a consumer yourself, you've probably noticed the rise of CSR driven initiatives at your local establishments, from the promotion of 'keep-cups' for discount coffees, to hotels implementing a 'don't replace my linen' option for guests who want lead an environmentally-conscious stay.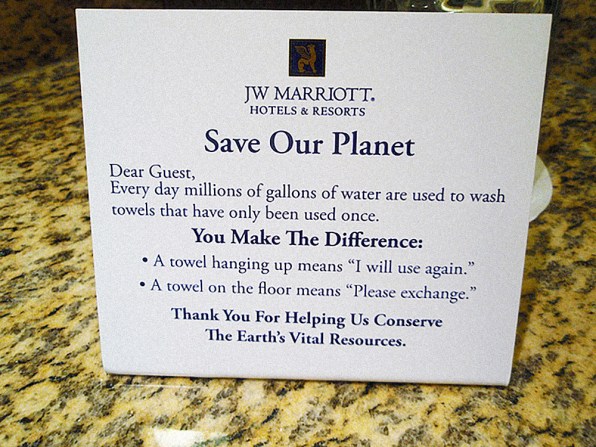 As a hospitality businesses owner or manager, you're likely to be considering what similar CSR efforts your business could be doing to make a difference in the wider community and to improve your process internally. Plus, there are a tonne of benefits to implementing a CSR strategy, including:
Improving your hospitality company's brand image and reputation, due to the fact that 40% of consumers seek purposeful brands and trust in brands to act in the best interest of society.
Encouraging labour rights and promoting a message that attracts and retains top talent. In fact, according to the Deloitte Global Millennial Survey 2019, 50% of millennials say they would take a pay cut to find work that matches their values.
Increasing sales and generating ROI. According to the Business ROI of Social Investments study (supported by the likes of Kellogs, KPMG and Southwest) Social Investments can help increase sales by up to approximately 20%.
Sounds pretty convincing, right?
If you're interested in 'doing good by good-doing', then these are the top 4 things that you can (and should) being doing in your hospitality business.
Top four ways to implement Corporate Social Responsibility:
1. Source Supplies Ethically
One of the very first CSR ports of call that you can integrate throughout your hospitality business is the ethical sourcing of your food supplies. This is particularly relevant to the bar, restaurant and cafe industry - but of course if you're a hotel or bed and breakfast that supplies food, it's relevant to you too.
So what does ethically sourcing your ingredients actually mean?
It means ensuring that all aspects of your supply chain are grown and processed in a manner that meets high standards of social, ethical and environmental responsibility. In a restaurant supply chain environment, that looks like:
Sourcing free-range meat and dairy.
Using seasonally available ingredients (to minimise energy used in food storage, transport and production).
Produce that is organically grown (often locally) and doesn't use genetically modified ingredients.
Using ethical suppliers who are cruelty free and utilise sustainable farming methods.
Being transparent with your customers about where your food is coming from.
Buying from suppliers who promote fair working conditions for their employees.
You can check out the full list, here.
Example: Orphan's Kitchen, Ponsonby
A brilliant NZ example of a restaurant who is successfully implementing an ethical CSR campaign (and creating a brand that's inherently rooted in sustainability) is Orphan's Kitchen.
Just one look at their manifesto and you'll see that from their dedication to protecting native fish and using sustainable approaches to harvesting NZ produced food, to their declaration to educate diners on Maori heritage through food prep and flavours - they're making a stand for what they believe in through practical means within their hospitality business.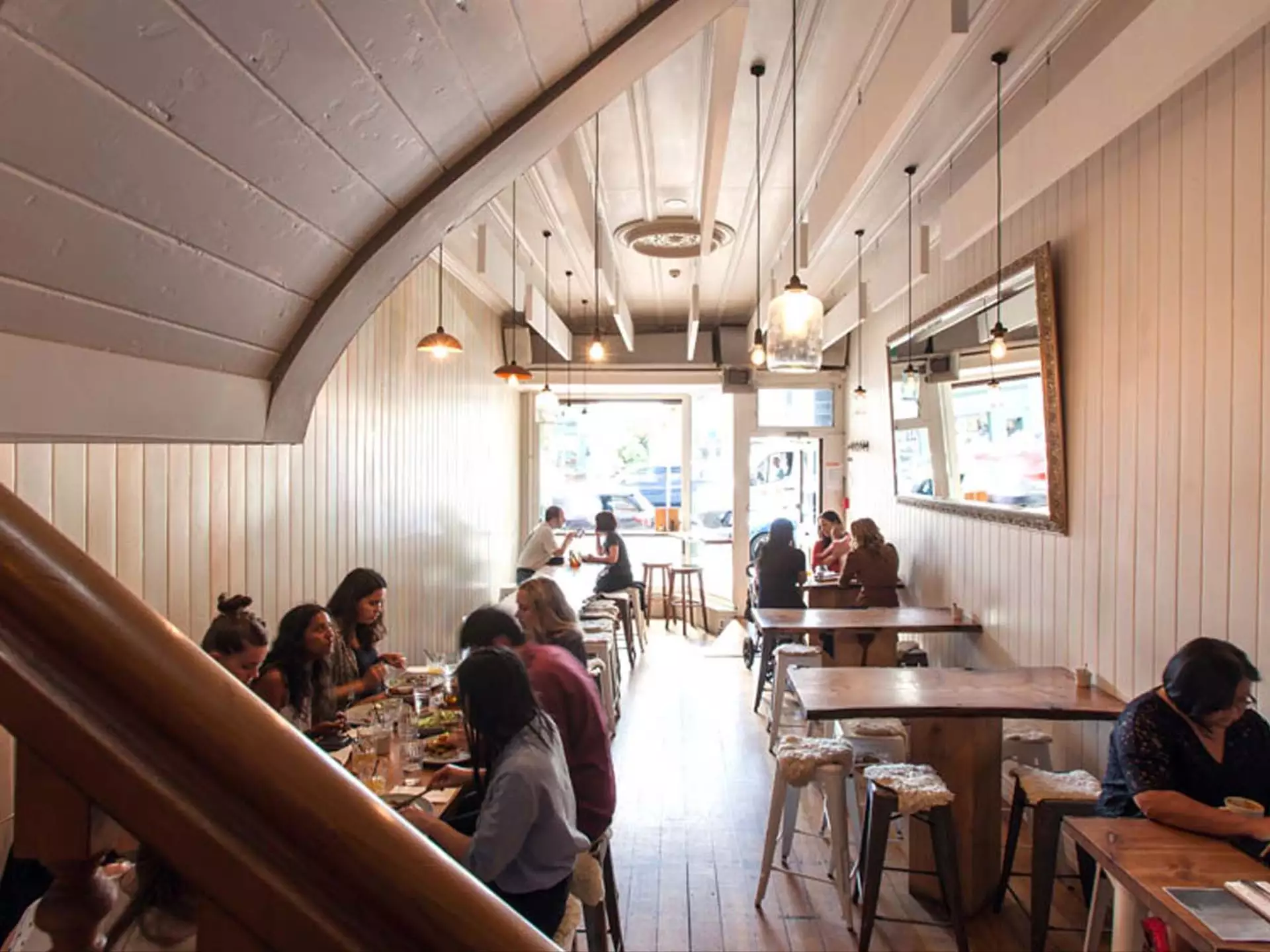 2. Partner with a Charity or Non-Profit Organisation
Making the decision to connect with and support a charity or non-profit organisation through your hospitality business is a great way to contribute to your community and connect with your socially conscious customers. If you're not in the position to do a full re-work of your services to implement CSR just yet, engaging with a charity is an easy to implement option.
The keyword here is to 'partner' with, rather than to simply donate money. If you're looking to work with a charity, both your organisation and theirs will benefit the most from an interactive relationship. This means:
Selecting a charity the aligns perfectly with your brand and business goals. In fact, for Momentum's 2015 Corporate Partner Survey said 92% of companies find that brand alignment with their charitable partner is more important than anything else.You want the partnership to feel like a natural extension of your business.
Outline what you'd like to achieve and how you're going to achieve it. This could mean integrating the charity into your products or services, or cross-promoting your brand with your new partner.
Often, partnering with a charity might mean doing 'on the ground' work and getting out in the community to help towards your cause. This will involve getting your stakeholders and employees on-board and motivated.
Actively measuring your success in terms of opportunity to positively impact your chosen non-profits mission and tweaking your efforts to provide more value to your cause.
Example: Ombra, Wellington
A polished Italian restaurant based on Wellington's bustling Cuba Street, Ombra is listed as one of the top restaurants contributing to the NZ helping hand charity; Dine Aid. Dine Aid is a non-profit organisation backed by the Restaurant Association that adds an optional $2 donation on top of every bill at participating restaurants (see below), and puts the funds towards City Mission food banks, clothing banks and community causes.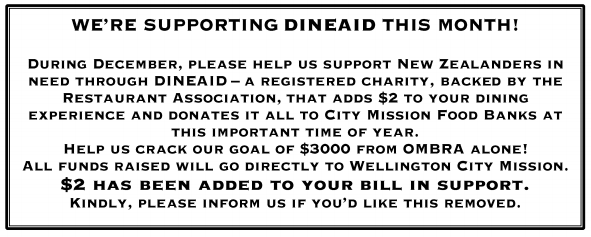 This is a great example of a partnership that makes sense. Dine Aid is a charity specifically tailored to restaurants and cafes, the charity cross-promotes the top donating restaurants to the cause on their website and social media in exchange for their contributions and the positive effect of the contributions is directly measurable through a live 'raised to date' counter on their website.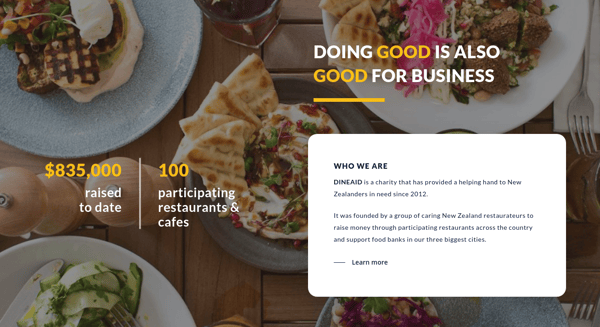 3. Evaluate Equality and Rights for your Workers
If you employ staff in the hospitality industry, chances are they're working long shifts, unusual hours outside of the office '9am - 5pm' and the expectation is for them to be on their feet and under pressure for the majority of their shift. Because of the working conditions that are inherently a part of the hospitality industry, one of the best ways to implement CSR within your own business is to take full responsibility for the equality and rights of your workers.
This idea of equality and rights for hospitality workers might include:
Committing to a certain number of diversity hires and ensuring the unbiased selection of candidates when putting together your team (race, culture, age, sexuality, ability etc.).
Ensuring that (as per law) your employees are afforded their entitled rest and meal breaks, and that their shifts are reasonably rostered and do not exceed an unreasonable duration.
Paying your employees the living wage.
Encourage your staff to join unions that support their rights as workers.
Go above and beyond what is expected of your business to provide fair working conditions for you staff.
While a lot of these stipulations are common sense and the minimum commitment required from employers in NZ, if you're looking to implement a CSR strategy based on this, you might want to look into the particular grievances experienced by workers in your industry and adjust your contracts to support your workers.
Example: InterContinental Hotels Group (Crowne Plaza & Holiday Inn)
In November 2019, International hotel chain giant ICH announced that they had earned a perfect score of 100% on the Human Rights Campaign Foundation's Corporate Equality Index. The national survey reports on corporate practices and policies related to LGBT equality.
The CSR policies of the NZ hotel chain that were reviewed included; LGBT-related policies and practices including non-discrimination workplace protections, domestic partner benefits, transgender-inclusive health care benefits, competency programs and public engagement with the LGBT community. In the words of the hotel chain itself:
"IHG champions equality for LGBT citizens, guests and colleagues as part of our commitment to creating a welcoming environment for all."
That's a pretty stellar effort towards equality and rights for workers, we think!
4. Use Environmentally Friendly Utility Sources
Taking an environmentally friendly approach to the utility services you use to operate your hospitality business is a great way to implement a CSR strategy through reducing your carbon footprint.
This option goes hand in hand with being conscious that your food is sourced ethically and sustainable, but takes a more holistic focus on the fundamental services you use to power your business, from energy consumption and water providers to waste disposal.
To change how your hospitality business is consuming utilities, we'd recommend:
Researching ways that you can reduce your consumption of electricity, gas and water.
Actively recycling all waste products and materials.
Selecting utility providers that are environmentally conscious, source sustainable solutions and acknowledge an address climate change.
Composting non-recyclable waste where possible.
Reducing packaging and promoting the use of re-usable plates, cups and cutlery.
Training your staff to operate in the most sustainable and environmentally friendly manner.
Example: Logan Brown Restaurant, Wellington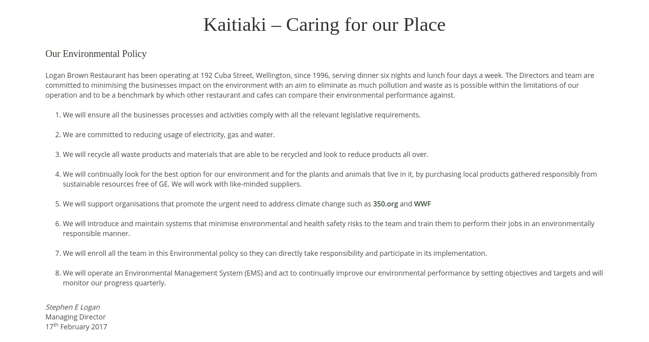 Logan Brown restaurant based in the capital city, Wellington, are a stellar example of a hospitality business who have gone above and beyond to extend an environmentally friendly approach throughout all of their business practices.
Their commitment begins with a straight-forward manifesto on the specific steps the business takes to stay environmentally friendly and eliminate pollution and waste within their constraints of their restaurant. This policy is signed by the director himself, Stephen E Logan.
You can tell that this restaurant and all of the staff who work within it are fully invested in the cause, with all of the team having achieved an 'Enviro-Mark Gold Certified' acknowledgement.
Finally, the restaurant has signed and published an open letter of declaration to climate change action (see WWF Climate Change Open Letter), which they promote publicly on their website.
Their stance on environmental corporate responsibility is remarkably unwavering, tangible and publicly declared.
Want to know how to implement a new hospitality CSR initiative?
If you're rolling out a full CSR initiative in your business and changing core processes, it's not always as simple as donating money to a cause. Usually, you'll have the challenges of picking the right initiative, pitching to executives, getting your internal team motivated to participate and reporting on the effects of your campaign.
But don't worry - with a little help, it's not as difficult as it seems! We've put together a step-by-step CSR checklist that you can use to keep your progress in check and make sure you're taking the right steps towards creating a successful CSR initiative.
Download the CSR Checklist below, for FREE!
While you're here, why not check out our other hospitality related blogs, covering dine and dash, how to motivate staff and restaurant payment processing?
Editors note: blog content updated on April 28, 2020