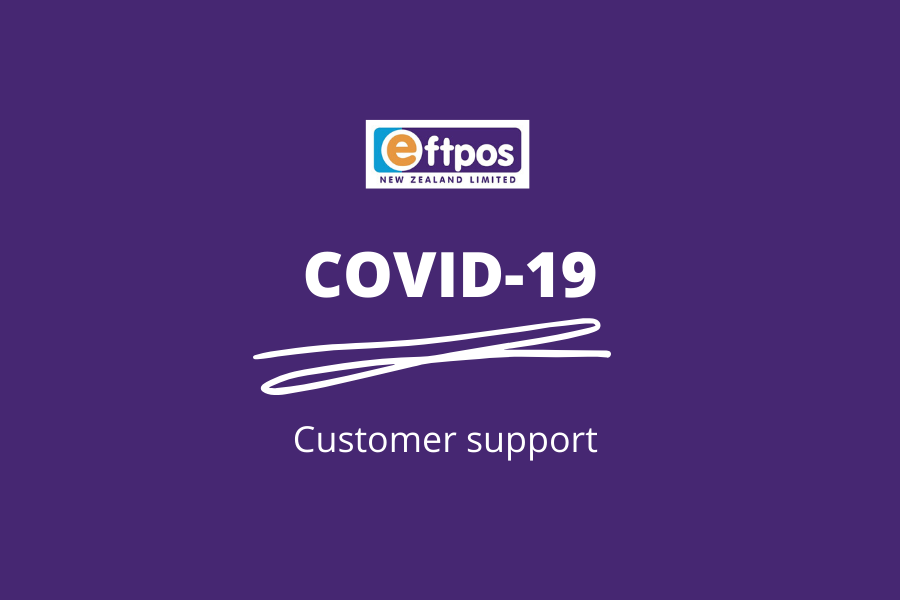 We are navigating many of the same challenges the COVID-19 pandemic has brought to businesses across New Zealand, so we understand the pressures Kiwi businesses are facing.
To help support our customers at this time, we have implemented the following measures:
Editors note: Blog content updated on 22 August 2021
Waiving Covid-19 related disconnections and late fees
Payments are a vital part of any business. To ensure the continuity of our customer's payment services, we will not be terminating services for customers experiencing financial hardship due to the COVID-19 pandemic. We are also waiving late payment fees until further notice.
Ensuring availability of customer support
Our customer support teams are available at all COVID-19 Alert Levels.
24/7 Technical Helpdesk:
• Call 0800 EFTPOS (0800 338 767, option 2)
• Submit a support form for non-urgent support requests
Customer Service:
Call 0800 EFTPOS (0800 338 767, option 4) 8 am - 5 pm, weekdays.
Providing advice and resources
As well as continuing to support your payments needs, we've also prepared information and resources to provide guidance at this challenging time. See our COVID-19 information hub for the latest update and advice, including how to properly clean and disinfect your EFTPOS terminal.
Supporting your changing payment needs
If you're exploring adapting your business in response to COVID-19, we can help. We can offer advice on tailoring your payment solution, including:
organising mobile terminals;
taking payment remotely over the phone, and;
mobile payments for curbside drop-offs
Our team of EFTPOS experts are available to discuss your payment needs 8am - 5pm, weekdays.
Call 0800 EFTPOS (0800 338 767)
COVID-19 Resources for businesses
• Eftpos NZ COVID-19 Info Hub: Get the latest updates, information and advice from us.
• MBIE guide to workplace operations at COVID-19 alert levels.
• Government information for employers, employees and essential businesses and services.
• Advice and resources for hospitality businesses
• Advice and resources for retailers