What are value-added apps?
Value-added apps are solutions additional to the standard functionality found on your EFTPOS terminal that can help solve various payment challenges, improve your customer payment experience and manage risk and redundancy.
Simply put, you always have the flexibility to add way more to your payment solution than just taking card payments.
See our list of 5 value-added checkout apps that can improve your customer's checkout experience.
1. Contactless payments
Imagine this - a customer presents their card or phone at your EFTPOS terminal during the checkout and you have to awkwardly say: "Sorry, no paywave." It's a fact that 1/3 of customers find it frustrating when retailers don't accept contactless payments.
With contactless payments enabled on your EFTPOS terminal, you can take payment from contactless cards and mobile payment apps like Google Pay and Apple Pay. This is important for future proofing your payment solution against new, emerging digital wallets and alternative payment methods.
Learn more about Contactless Payments here.
2. Dynamic currency conversion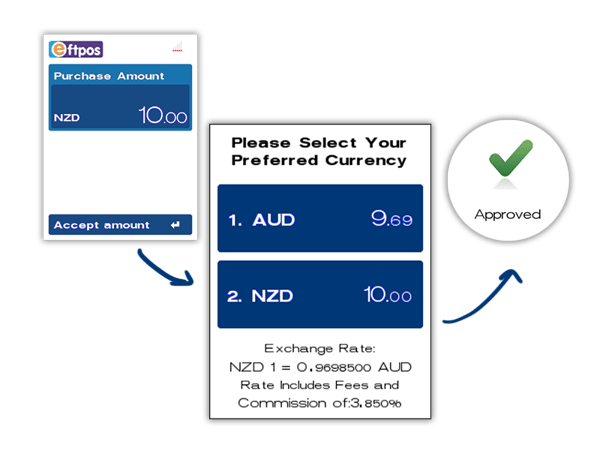 The number of foreigners who will visit New Zealand by 2024 is forecasted to be 5,120,000. These visitors are expected to spend around $14.8 billion in New Zealand during that time.
If your merchant facility is provided by BNZ or ANZ, you can add a dynamic currency conversion solution to your EFTPOS terminal. DCC makes your international customers feel at home by allowing them to make a purchase in their home currency rather than in New Zealand dollars. Your terminal automatically detects international Visa and MasterCard credit cards and displays the transaction total in both your customer's currency and NZD, which helps them understand the value of their purchase in their own currency.
ANZ merchants earn a rebate on their merchant service fees for every Customer Preferred Currency transaction they process.
Learn more about Currency Conversion here.
3. Integrated EFTPOS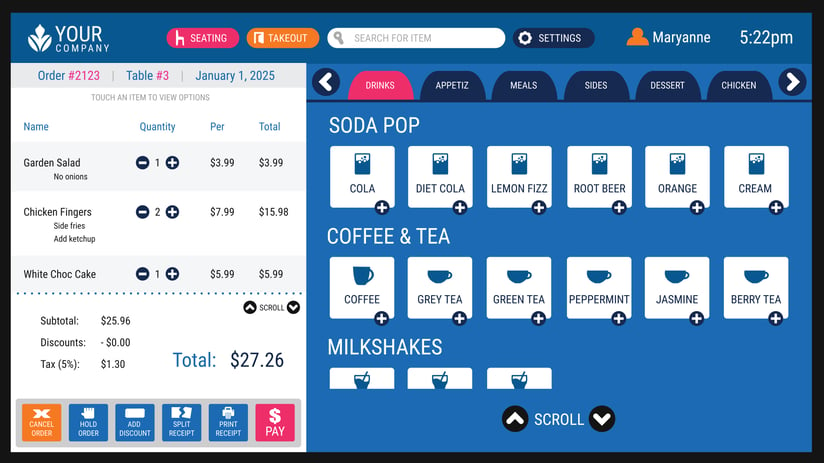 Fast and accurate transactions? Yes, please!
Entering product information into your point-of-sale and then the purchase amount into your terminal separately increases the chances of keying errors and means that your customer is waiting to pay for longer. There is a solution that eliminates the step of entering purchase information into the terminal altogether, however - POS integration.
Aside from greater accuracy and faster checkout times, POS integration also offers you hassle-free accounting, detailed receipts, and accurate reporting. Plus there are portable integrated solutions perfect for restaurants that want to offer a pay-at-table service.
Learn more about Integrated EFTPOS here.
4. Gift cards and loyalty programmes
Did you know that your EFTPOS terminal can accept gift cards?
With ePay you can sell gift cards for big brands like Farmers, Google Pay, Vodafone, Mitre 10, and many more. Bring more customers through your doors and earn a commission for every ePay product you sell.
You can also look at setting up a loyalty and gift card programme for your own business. Offering a loyalty programme is a great way to engage with your customers and make them feel like a part of the family. When they have a card in their wallet that has your business's name on it, it gives them a reason to come back and do business with you.
Learn more about Gift Cards here.
5. TruRating
If you don't take feedback from your customers constantly, it'll be really tricky for you to understand your strengths and weakness from the customer's perspective. And it's not just about the feedback itself, the timing of feedback also matters.
TruRating allows you to get feedback from your customers right after the purchase is completed. After the transaction is done, customers can use the PIN pad to answer a simple question, like "Rate your experience on a scale of 0-10". This means you can tie customer sentiment directly to spend and TruRating has response rates as high as 88% - much higher than other methods!
This means you know your insights are gleaned from a large, sample of your paying customers. Your customers will also feel valued knowing you care enough about their experience to ask.
Learn more about TruRating here.
So these were the 5 value-added apps to improve your customer's checkout experience. In future articles, we'll shed some light on the value-added apps to increase revenue and reduce risk.
You can view our full range of Value-added apps here.
Not with Eftpos New Zealand yet?
We power the payments of over 50,000 Kiwi businesses, from your local coffee shop to big brands.
Click on the link below to learn more about switching to Eftpos New Zealand.
While you're here, why not take a look at our Comprehensive Guide?
Editors note: blog content updated on April 22, 2020