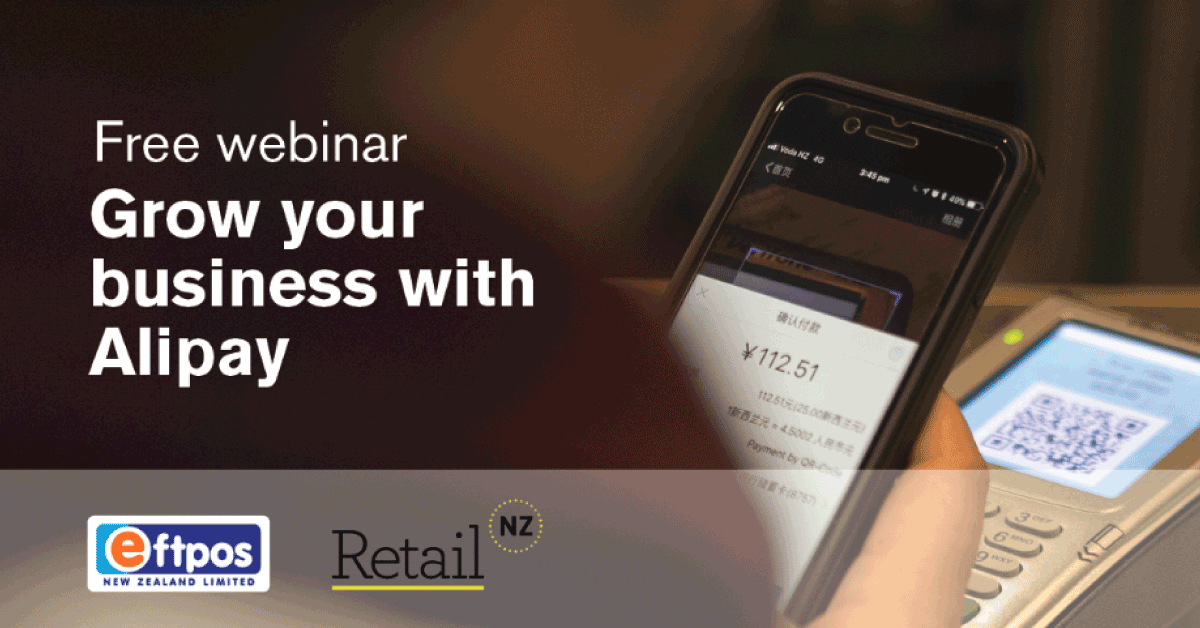 With growing Chinese visitor numbers, it's becoming increasingly important that Kiwi businesses can accept Chinese mobile payments and know how to market to this audience. Over the next 5 years it's expected New Zealand will host over 3.6 million Chinese visitors and by 2024 Chinese tourists are expected to spend $4.3 billion annually in NZ – is your business ready?
China is the biggest mobile payment market in the world, with mobile payments fast replacing cash as the preferred payment method for most urban residents.

Chinese consumers are increasingly expecting to be able to pay with their Alipay app abroad. Nearly two-thirds of Chinese travelers say that having the option to pay using Alipay affects their shopping decisions overseas.

In this free webinar brought to you by Retail NZ, in association with Eftpos NZ and the South programme at Christchurch Airport, we'll introduce you to China's biggest mobile payments platform and show you how Chinese consumers use it to discover new brands and make payments in-store.
Learn how your business can start accepting payments from Chinese mobile platforms and how you can use these platforms to market directly to domestic and international Chinese consumers.
Alipay webinar Q&A
Q: When I was in China a few years ago I didn't see very many EFTPOS machines. How do people pay with Alipay in China?
A: That's a great question! You're right, not many retailers in China have EFTPOS machines because not many people pay with cards in China. Instead businesses there will have a static, printed QR code on their counter that Alipay users scan to pay the retailer for goods. Because merchants in New Zealand are so used to EFTPOS technology, we wanted to keep the QR code on the terminal. This might be new for some Alipay users – but the moment they see the Alipay logo and the QR code on screen, they will know what to do.
Q: How do I find an Alipay acquirer?
A: We work with all the major Alipay acquirers in New Zealand and can help you with the onboarding process. Your Eftpos NZ payment solution specialist can take you through each acquirer and which one is best for your business.
Q: Does Alipay product listing have ability to integrate with online booking systems such as Rezdy? (have excluded all other questions related to website ecommerce integration, as answer below covers all scenarios)
A: You would need to check with the online booking system you are using - that being said, most booking systems rely on an online payment gateway to accept online payments. We are seeing more and more online payment gateways that are allowing merchants to accept payments from their customers using digital wallets like Alipay.
Q: How does the payment process show into the company's bank account? How many days does it take to show?
A: This can differ slightly depending on which acquirer is processing your Alipay transactions - but generally 1 - 2 days.
Q: Can we use Alipay for our online sales website? (Linking the QR code to the webpage)
A: We are seeing more and more online payment gateways that are allowing merchants to accept payments from their customers using digital wallets like Alipay.
Q: What other marketing should I be doing to target Chinese consumers to come into my store?
A: As you may know, many of the marketing channels we use in New Zealand are not available in China (e.g. Facebook, Instagram and YouTube). The Chinese market has a number of equivalent social media apps, but leveraging these for your business requires a high level of expertise is how to market to Chinese consumers and often can be quite expensive. By utilising the marketing capability of Alipay and the free service of the South programme, you can ensure your products and special offers are made available to Chinese people in New Zealand, giving you great access without the hassle and expense of working with some of the other channels.
Want to know more about accepting Alipay on your EFTPOS terminal? Learn more and enquire here.
While you're here, why not take a look at our Comprehensive Guide?